Virginia Legislature Convenes Today
Written by Mike Hammond
Published: 08 January 2020
Widow Gives VA Gun Owners Powerful Argument Against Red Flag Laws
Tell Your State Delegate and Senator that Gun Control Kills
Well, Governor "Blackface" yesterday issued his legislative, gun-grabbing plans.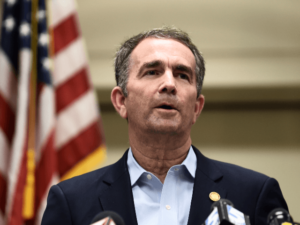 He wants to bring back the one handgun a month law, in addition to imposing new gun control like Universal Registration Checks and Red Flag gun confiscation orders.
But The Washington Times recently provided a powerful argument against the types of restricts that our Governor is proposing.
If you've ever heard the name, Nikki Goeser, then you've probably heard her tragic story.
Her husband, Ben, was shot to death by a stalker who shot and killed him in what is euphemistically known as a "gun-free zone."
More realistically, these areas should be called "safety-free zones."
Devastated by the senseless murder of her husband, Nikki Goeser is speaking out against gun control, so that others won't be victimized like her family was.
In a recent Washington Times article, Goeser blasted "red flag" Gun Confiscation Laws, just like the ones that are now being pushed by Virginia's Governor "Blackface" Northam.
Governor Blackface is not against guns when it comes to his own safety. He is amply protected by a cadre of armed police.
However, the lives of frightened widows are — to say the least — of far lesser importance to him.
In the article, Nikki points out how a "red flag" law could have been used to disarm her in the days after her husband was murdered:
"I wasn't suicidal. I was just going through a really hard time," she said. "But someone very well-meaning — a family member, a friend, a co-worker — could say, 'We're really concerned about Nikki. This horrible thing has happened, we know she's a gun owner,' and then take their concerns to a judge."
If a judge had ordered police to take away her firearm, deeming her a risk to herself or others, "for someone like me, that would have been trauma on top of trauma."
"Here I'm scared to death, I'm already concerned for my safety, and then to go and take my basic human right of self-defense away from me with no due process?" she said. "It's pretty scary."
The Governor's "red flag" bill hadn't been reintroduced the last time we checked.
But last year's version would allow an angry "ex" to, with unsubstantiated allegations, send a SWAT Team to your house in the middle of the night — ready to ransack your possessions.
Already, a 61-year-old black man was shot to death in Ferndale,
Maryland, during a middle-of-the-night red-flag raid.
So, while Governor Blackface may not have to worry about his own family being shot to death in a "red flag" Gun Confiscation raid, you probably do — particularly if you're one of the minorities the governor likes to ridicule.
With the legislative sessions starting today, it is vital that you tell your Representative and Senator to oppose these radical gun control measures and stand with their constituents.
Featured GOA News & Updates