Veto Taxpayer-Funded Gun Control in Texas!
Written by Rachel Malone
Published: 29 May 2019
Call Abbott to VETO Taxpayer-Funded Gun Control
The legislature adjourned "sine die" yesterday — but we still have one more gun control item to kill.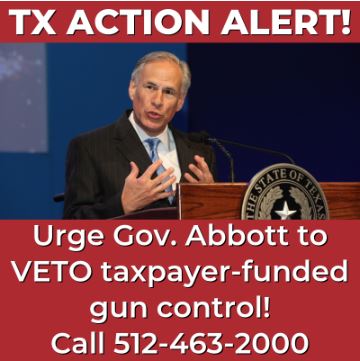 The budget bill, HB 1, includes a $1 million allotment for a "safe gun storage" campaign over the next two years. That's a million dollars of our money spent on something the government has no business doing.
Even worse, the intent behind this "safe gun storage" campaign is to promote gun control propaganda, ignoring the fact that guns are used far more often to protect innocent lives than to harm them.
The budget bill is on its way to the Governor's desk now.
Please call Governor Abbott right away at 512-463-2000 and tell him to VETO TAXPAYER-FUNDED GUN CONTROL.
The House and Senate failed to stop this budget rider, but the Governor still has power to stop it through a "line-item veto" of this particular item.
You'll talk with a staff member. Ask them to tell Governor Abbott to veto the "Statewide Safe Gun Storage Campaign" in the DPS budget (item #48) because it uses OUR taxpayer dollars to fund gun control messaging.
Here's a sample script:
Hi, I'm a member of Gun Owners of America and I'm calling to tell Governor Abbott to VETO taxpayer-funded gun control. He needs to VETO the "statewide safe gun storage campaign" in the budget bill. It's in the DPS budget, Item Number 48. It's none of the government's business, it's right out of the gun control playbook, and I don't want MY tax dollars being spent on this campaign."
Back in March, we killed the bill that would have mandated this public awareness campaign (HB 316) — thanks to your phone calls and emails.
We also worked hard to kill this budget rider that would fund the awareness campaign. Although we didn't kill it, we did successfully amend it to add: "The public awareness campaign may not convey a message that it is unlawful under state law to keep or store a firearm that is loaded or that is readily accessible for self-defense."
Even with that amendment, this program needs to go away. Our money does not need to be spent on another government program, especially one straight from the gun control lobby's playbook.
Please call Governor Abbott today at 512-463-2000! Tell him to veto taxpayer funded gun control in Texas!
For more information and talking points on why this campaign is a very bad idea, see this factsheet on HB 316, the original bill that attempted to enact the public awareness campaign.