Why Women Oppose the Violence Against Women Act
Written by Rachel Malone
Published: 28 May 2019
Urge your Senators to Reject Gun Control in VAWA
Urge your Senators to oppose HB 1585!
Gun Owning Women Speak Out Against VAWA
Anti-gunners often flaunt gun control like "red flag" gun confiscation as measures to keep women safe.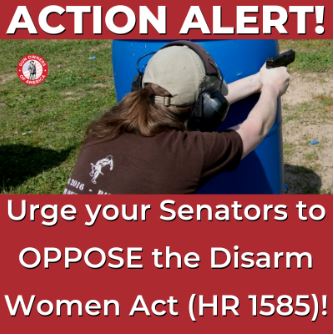 Not only that, they're often willing to play dirty legislative tricks to pass their infringements.
This is what's happening right now in the House of Representatives.
Radical anti-gun leaders are trying to pull a fast one on the American people by sneaking gun control into the so-called Violence Against Women Act (VAWA).
This bill, which has already passed the House, includes provisions that are actually dangerous to women. And that's why the bill should instead be known as "the Disarm Women Act."
Many women, like myself, carry guns for self-defense from thugs and criminals. But provisions in the Disarm Women Act would allow for any "dating partner or former dating partner" to strip a gun owning woman of her Constitutional rights with just a phone call to a judge.
A woman's guns are confiscated with no warning and no due process. This is just like the "red flag" laws that we have been battling across the country.
In fact, we've had a lot of experience with these "quickie" proceedings.  And we know that they are often used by an angry ex to exact revenge on a former partner.
Consider in California, a cheating husband used his state's red flag law to confiscate his wife's Glock.
The truth is that women don't need more government — and more gun control — to protect ourselves. But both women and men need guns for protection from those who would do them harm.
This is why Gun Owners of America is strongly opposed to the gun control in this bill.
Currently, this anti-gun bill has been sent to the Senate, and Gun Owners of America is actively mobilizing gun owners all across the country to oppose it.  
No matter whether your Senators are Democrat or Republican, they need to hear that you are opposed to this gun control-infested bill.
So please take action above to tell your Senators to leave gun control out of VAWA.
Thanks in advance for taking action!