Texas plans to designate official state gun along with other weapons
Written by Tom Dart
Published: 09 April 2017
Texas plans to designate official state gun along with other weapons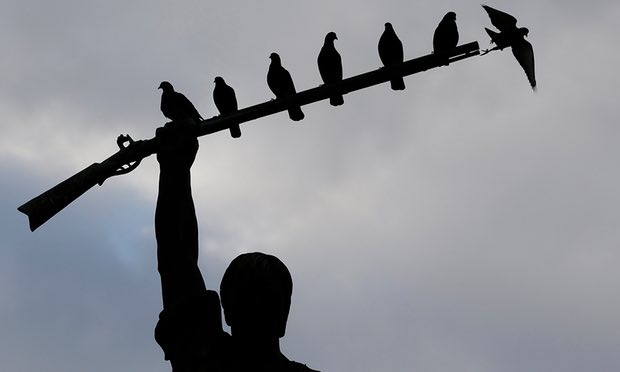 The Texas state dish is chili, its tree is the pecan and its fish is the Guadalupe bass. And soon, Texas may have an explosive addition to its set of official symbols: plans are afoot for a state gun.
Though Texas lawmakers through the years have seen fit to designate dozens of symbols, including an official pollinator (the western honey bee), cooking implement (the cast-iron Dutch oven) and shell (the lightning whelk), they have not yet given the seal of approval to a weapon, despite the state's famous fondness for arms.
But a resolution to make the cannon the official state gun passed through a senate committee hearing on Thursday, the first step toward the plan becoming law.
Another proposal in the current legislative session calls for the 1847 Colt Walker pistol – "the most powerful black powder pistol in existence" and used in the Mexican American war – to be recognised as the official handgun of Texas; another suggests the Bowie knife, named after Jim Bowie, who died in the battle of the Alamo, should be the official state knife.
"There's room for all three, there really is," said Don Huffines, the Republican state senator who authored the cannon resolution. Hand-to-hand combat was given an acknowledgment of sorts this week, when the legislature made Chuck Norris an honorary Texan (he was born on the wrong side of the Oklahoma-Texas state line).
As many Republican-led state legislatures have sought to pass more permissive gun laws, the idea of designating a weapon as a symbol has developed traction. Utah became the first state to name an official firearm in 2011, citing the Browning M1911 automatic pistol. Arizona soon followed, adopting a Colt revolver four months after the mass shooting in Tucson that killed six and seriously injured more than a dozen others, including the then US congresswoman Gabrielle Giffords. Indiana, West Virginia, Alaska and Pennsylvania followed, while last year the Barrett M82 became the official state rifle of Tennessee.
The Texas cannon resolution references the 1835 battle of Gonzales, when Mexican soldiers tried to take a cannon from a group of Texans who resisted, marking the beginning in earnest of the Texas revolution.
Featured GOA News & Updates