Homeowner Opens Fire On Intruder, Sends Them Running Faster Than They Came In
Written by John Falkenberg
Published: 09 April 2017
Homeowner Opens Fire On Intruder, Sends Them Running Faster Than They Came In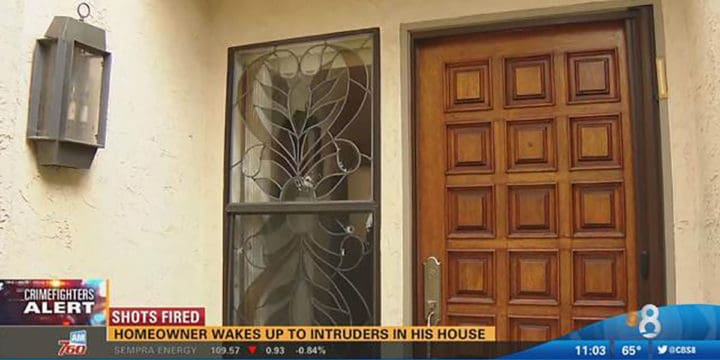 SAN DIEGO, CALIFORNIA — A California homeowner opened fire on two intruders who had broken into his home, forcing them to make a hasty retreat, reports CNS.
The homeowner, Kurt, was woken up by noise going on downstairs at approximately 3:45 in the morning.
"At 3:45 I heard noises and rumbling downstairs and I sat up in bed," said Kurt according to CBS 8. "There was a flash of light so I knew there was someone in the home."
He was extremely nervous, but he grabbed his (what appears to be) Sig Sauer P226 and went downstairs to investigate, where he discovered two intruders who had entered his home through his open garage, which he had accidentally left open the night before.
CBS News 8 – San Diego, CA News Station – KFMB Channel 8
Upon discovering the intruders, he fired three rounds, hitting no one, but causing enough of a stir to force a hasty retreat from the criminals.
Although Curt managed to escape harm, he reported that some property was stolen, and that his nerves continue to be on edge. It's hard to blame him.
Which is why we'll forgive him referring to his magazine as a "clip."
But seriously — although no one was arrested, he was able to seriously negate what could easily have been a deadly situation.
Featured GOA News & Updates