Second Amendment advocates warn Trump over support for "red flag" laws
Written by Kathryn Watson, CBS News
Published: 15 August 2019
Second Amendment advocates are sounding the alarm over a potential expansion of state "red flag" laws, one of the gun reform measures President Trump has endorsed in the wake of the deadly mass shootings in Texas and Ohio.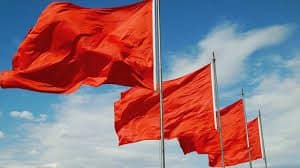 Mr. Trump is urging Congress to back efforts to encourage states to adopt red flag laws, which give family members, and in some cases police officers, the power to obtain a swift court order from a judge to confiscate firearms from someone deemed a danger to themselves or others. The ability to obtain these "extreme risk protection orders" is already on the books in 17 states and the District of Columbia…
But some of the president's staunchest supporters and Second Amendment advocates are warning him of constitutional concerns about the laws, as well as potential political ramifications.
"This might be Donald Trump's 'read my lips' moment," said Michael Hammond, legislative counsel for Gun Owners of America (GOA), a gun rights group that prides itself on being even more uncompromising than the National Rifle Association (NRA). "If he basically tries to dismantle the Second Amendment community, he's going to be a one-termer. I firmly believe that."
There a tens of millions of gun owners in the U.S., with 5 million members of the NRA and 2 million GOA members, Hammond noted. He said Mr. Trump's reelection prospects could be in jeopardy if he loses support among gun owners, pointing to Mr. Trump's narrow margin of victory in several key states in 2016.
"Now, how many of these would he have to lose in order to lose the presidency?" Hammond asked. "It certainly depends on who the Democrats nominate, but it probably also depends on where the gun owners who sit on their hands are located."…