'Red Flag' Gun Law Slips By House Via Defense Spending Bill; Will Trump Veto?
Written by Andy Hogue, The Hayride
Published: 31 July 2020
A red flag law that could be imposed on members of the U.S. military and their dependents is now one Congressional compromise away.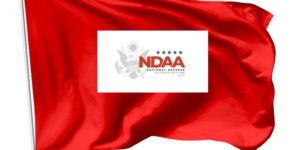 As the Democratic-controlled U.S. House of Representatives and the Republican-dominated U.S. Senate passed their versions of a $741 billion defense spending bill, several provisions were bird-dogged by the Trump Administration as objectionable.
Among them was the expected opposition to a superfluous "diversity and inclusion" section in the House version and re-naming of military bases which honor Confederate heroes in both the House and the Senate versions. These received plenty of media attention.
But what went largely unseen was the House bill's red flag provision. Section 542 of the House's version of the National Defense Authorization Act (H.R. 6395) gives authority for military judges and magistrates to issue ex parte protective orders whenever they deem a person is unfit to own or carry a firearm…
Aidan Johnston, Director of Federal Affairs for Gun Owners of America, called it a case of House Republicans being "asleep at the wheel." Johnston pointed out the bill, along with the red flag section, passed unanimously in committee. On Tuesday evening the House bill was approved on the floor by a 295-125 veto-proof majority. Fully 108 House Republicans voted for it, with 81 opposed, and 9 not voting.
The Senate passed their version (S. 4049) 86-14, though it appears to lack the red flag provision.
"Understood in context, Section 542 of the [House] bill codified a new 'red flag' gun confiscation order program enforceable against any person subject to the United States Code of Military Justice — meaning both active duty military and retirees, among others," Johnston wrote. "Because these would be issued on an ex parte basis, the gun owner would get no notice, no attorney, and no ability to defend himself against the accusations — in short, no due process."…
While Democrats control the House (and appoint committee members), this bill still must make it through conferencing with a Republican-controlled Senate and negotiations including White House staff. Both chambers must agree on a single compromise bill before it can be sent to the President for his signature or veto…
Read more at The Hayride
Featured GOA News & Updates