GOA Endorses Dr. Manny Sethi for U.S. Senate in Tennessee
Written by Tim Macy
Published: 31 July 2020
Dr. Manny Sethi is GOA's Pick for U.S. Senate in Tennessee
Gun Owners of America is proud to endorse Dr. Manny Sethi for U.S. Senate in the Volunteer State!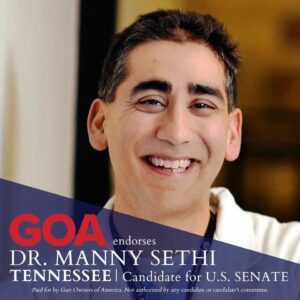 The primary election is scheduled for August 6th, with early voting currently taking place through August 1st.
A trauma surgeon from Nashville, Dr. Manny is a political outsider in the U.S. Senate race and earned an "A" rating from GOA because he opposes any new gun control laws and will work to roll back unconstitutional gun laws already on the books. He believes, with the Founding Fathers, that the Second Amendment is a safeguard of freedom and liberty.
"I will always stand up for our Second Amendment rights, even against moderate Republicans who compromise on this issue. Any law or policy that inhibits any law-abiding citizen from owning or carrying guns in any way is unconstitutional. This includes laws limiting or banning so-called 'assault weapons' and 'large capacity' magazines."
The Second Amendment isn't just theoretical for Dr. Manny, as he actively uses it to protect his family.
"A few years ago, I had a death threat made against me and my family. I went out, got my concealed carry and immediately did extra training with my 9mm. That's what the Second Amendment is about – ensuring we're able to protect ourselves and our families."
Already supported by leaders such as Sen. Rand Paul and Sen. Ted Cruz, Dr. Manny would be an excellent addition to the pro-gunners in the Senate and would help us to ensure that any attempts at restricting your Second Amendment-protected rights will be met with a resounding defeat.
The radical left & Washington insiders do not want leaders like Dr. Manny Sethi in the Senate. They will target him as they do every candidate who believes in the Constitution and personal freedom.
You can help Dr. Manny get the help he deserves by volunteering for his campaign, making a financial contribution, and showing up to vote on August 6th.
GOA encourages all gun owners and sportsmen to stand with Dr. Manny Sethi for U.S. Senate.
Featured GOA News & Updates