Police: Concealed Carry Permit Holder Shoots, Kills 'Active Shooter'
Written by AWR Hawkins
Published: 04 May 2017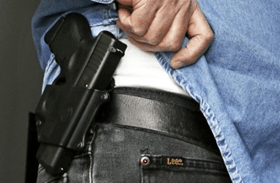 On Wednesday night a concealed carry permit holder shot and killed an alleged "active shooter" at Zona Caliente Sports Bar in Arlington, Texas.
---
The incident occurred around 6:15 pm. WFAA reported, "A man opened fire at the Zona Caliente Sports Bar… but police say a customer with a gun of his own put a stop to it."
The man reported to police as an "active shooter" was 48-year-old James Jones. He allegedly walked into Zona Caliente, began arguing with the manager — 37-year-old Cesar Perez — and then pulled out a gun and killed Perez. At that moment a concealed carry permit holder responded by pulling his own gun and killing Jones.
The unidentified permit holder had to come down from "the other end of the bar" to intervene and stop Jones. Arlington Police Department Lt. Christopher Cook said, "[The concealed permit holder] made the decision to engage the shooter, fearing there would be other loss of life."
Police do not yet have a motive in the shooting of Perez, but they have made clear that the concealed permit holder will face no charges for the actions he took to be sure no other innocents were harmed.
Featured GOA News & Updates