Gun Confiscation Could be Moving in NH
Written by Alan Rice
Published: 04 November 2019
A Sununu / Bradley Compromise Could Put You at Risk
We Need to Make Our Voices Heard
After the radical gun banners took control of the New Hampshire General Court, Governor Sununu made a commitment to veto legislation that violated the Second Amendment and Article 2a of the New Hampshire Constitution.
He kept his promise and vetoed all gun control — especially the worst — HB 696 elder care gun confiscation and his veto was sustained.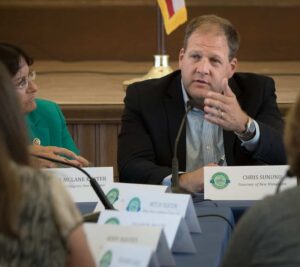 We thought that once the veto was sustained this would be a dead issue.  We were wrong; the Union Leader recently reported that Governor Sununu and Senator Jeb Bradley are working on a "compromise."
We are concerned, very concerned.  Even if the Sununu / Bradley "compromise" doesn't specifically mention firearms — or command law enforcement to seize firearms (which is what HB 696 did). In fact, a bill that is open-ended would be arguably worse.
If, under any "compromise", a guardian appointed by the government (or in some cases a bureaucrat), could sue a relative who is caring for an elderly parent — charging abuse — that would set the stage for gun confiscation.  If the bureaucrat is successful in obtaining a "restraining order," the caretaker will lose her Second Amendment rights.
What is abuse?  We've seen this scenario elsewhere, and I'm pretty confident that it would be defined as "verbal harassment" which could result in "emotional distress…"  These are subjective terms that a bureaucrat can manipulate to coerce a court to restrain a family member and confiscate their guns.
What might a judge be able to order under a Bradley / Sununu elder care gun confiscation "compromise"?
A judge can order virtually anything, and you can bet that gun confiscation will always be ordered.
Furthermore, even if a judge doesn't order guns to be taken, gun owners might still face additional legal peril because of a federal law prohibiting firearms possession by those who are subject to domestic violence restraining orders (orders issued by state courts, often without the accused being present).
In 2018, Sen. Bradley co-sponsored SB 500, an anti-gun bill that we aggressively fought; and when he was in the NH House in the late 1990s he had a terrible voting record on firearms issues.  Based on his history, we are very concerned about the Bradley elder care gun confiscation "compromise."
Any "compromise" that could restrain someone with respect to spouses, children, parents or anyone else who cohabitates with them will cause that person to lose their Second Amendment civil rights — permanently and probably irrevocably.  When government bureaucrats interfere with family dynamics things generally end badly for the family.  As of now, Senator Bradley is the lone sponsor of this LSR:
2020-2733 SB   Title: relative to protective orders for vulnerable adults.
Even with the bad news on elder care gun confiscation, there is some good news to report.
Last week we asked you to contact the Criminal Justice and Public Safety Committee and urge them to oppose HB 687, gun confiscation bill.  The committee met in Executive Session on Wednesday, October 30, and it looks like they heard you.  While they voted to adopt the anti-gun Murphy Amendment, they did not have the votes to recommend "ought to pass" on the amended bill.  What this means is that HB 687 will go before the House of Representatives in January without a committee recommendation.  Neutral, rather than "inexpedient to legislate" (ITL) or an "ought to pass" (OTP) recommendation.  Rep. John Burt has assured me that he will get a roll call vote and fight hard for the votes to pass an ITL motion on the floor to kill the bill.
Here is what you need to do:
Please contact Governor Sununu (above) and urge him to veto any form of gun control or gun confiscation.  No matter who the sponsor is and what the editorial writers claim.  Please make it clear to the Governor that his proposed compromise is a solution in search of a problem, and you categorically reject the notion that bureaucrats and court-appointed guardians know what's best for our seniors.
Also, please go below to contact Senator Chuck Morse (the Republican leader) and let him know that you are aware of Senator Bradley's gun confiscation scheme and are completely opposed to it.  As the leader of his party, Senator Morse is accountable to all NH   residents, not just those who reside in District 22.
Featured GOA News & Updates