GOA Stands Alone Among National Gun Rights Groups, Calling on Republicans to Cut Anti-gun Spending
Written by David Codrea of Examiner
Published: 11 December 2014
GOA Stands Alone Among National Gun Rights Groups, Calling on Republicans to Cut Anti-gun Spending
"[B]etween 40 and 50 Republican representatives have already jumped ship and are opposing the Republican leadership," Gun Owners of America told members in a Tuesday alert describing rank and file push-back against what is being widely perceived as a GOP betrayal and sell-out. "This means that at least a fifth — and maybe more — of [House Minority Leader Nancy] Pelosi's minions will have to be ordered to support [House Speaker John] Boehner for it to pass. And Pelosi has made it clear to the press that the bill will have to be altered to be satisfactory to her in order for her to provide those votes.
GOA stood alone among national gun rights groups in November, warning that passing the bill will result in giving Congressional Democrats control of Congress for the next 10 months, as the "so-called 'long-term CR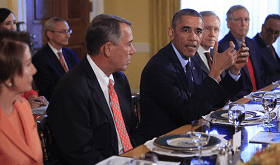 [continuing resolution]' … would set policy and spending until the end of the fiscal year (September 30, 2015)." Their solution was to call instead for "a 'short-term CR' into January, February, or March. This would allow the newly elected Republican Congress to set spending and policy for the federal government for most of next year." …
At this writing, as things are unfolding in real time, it appears a revolt has almost killed the bill, and floor votes may not be enough to allow it to pass, particularly if opposing Democrats hold fast to their reasons for objection. If that happens, Matthew Boyle of Breitbart notes, "congressional leadership is planning to change tack and move forward with a three-month stopgap spending bill, or a clean Continuing Resolution."
If that happens, GOA will once again have proven itself as a uniquely effective "no-compromise" national leader in the gun rights advocacy community. Whether that will be widely recognized by even more gun owners than currently count themselves among its supporters, and repaid in kind with a commensurate merited increase in membership support, remains to be seen.
Featured GOA News & Updates