Tell your Senators to say NO to the anti-gun funding bill
Written by admin
Published: 12 December 2014
"GOA [has] stood alone among national gun rights groups …" — The Examiner, December 11, 2014
"Gun Owners of America (GOA) says Republicans should vote against a trillion-dollar government funding package Thursday afternoon … because it would also provide more than $1 billion in support for "Barack Obama's anti-gun executive actions." — The Hill, December 11, 2014
PRO-GUN CONSERVATIVES COME JUST SHORT OF THWARTING BOEHNER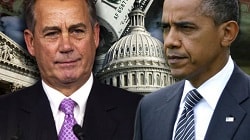 You've probably heard the news already regarding the corrupt anti-gun government funding bill which passed late last night.
In the end, even liberal Rep. Nancy Pelosi (D-CA) balked about supporting the bill, known as the Cromnibus. 
But Boehner was aided by Barack Obama and Joe Biden, who worked the phone tirelessly Thursday, giddy at the prospect that Boehner would agree to fund Obama's illegal executive actions on gun control, immigration and the anti-gun ObamaCare. 
In the end, the Boehner-Obama-Biden team was able to pass the giant $1.1 trillion anti-gun bill by a vote of 219-206.  And 162 House Republicans who campaigned by opposing gun control, ObamaCare, and immigration amnesty dutifully voted to fund all three. 
Notably, there were 67 Republicans who voted against the anti-gun Cromnibus — and they voted NO for the right reasons. You can see how all Representatives voted here.
Now, the bill goes to the Senate, where it will be voted on sometime in the next few days, depending on the resolve of opponents on the Right like Ted Cruz and Rand Paul — and, ironically, opponents on the Left like Elizabeth Warren who have their own problems with the bill. 
SEVERAL ANTI-GUN PROVISIONS
Those of you who have been following our website and/or Facebook will have already seen our analysis of the Cromnibus.  
As a matter of process, this gigantic bill was hatched in secret and sprung on the American people less than the 72 hours before consideration, which was promised by Republicans when they asked us to elect them.  This is precisely what the GOP said it would not do if we gave their party control of Congress. 
As a matter of substance, the bill spends hundreds of millions of dollars to fund Barack Obama's illegal executive actions on guns. Consider what it does:
(1) It "fights gun violence" with $1.1 billion — an increase of $53 million.  We all know this is a euphemism for gun control, and there is nothing which prevents the administration from using this money to support its anti-gun "executive action" agenda. 
(2) The bill increases funds, by $13 million, for the widely abused NICS system which Obama has spent the last two years trying to expand — both through unsuccessful legislation and then through unlawful executive action.  
Among the people stripped of their Second Amendment rights by the bill's largesse will be over 175,000 law-abiding veterans.  The bill is, thus, a kick in the pants to those who served our country honorably and are counting on you to protect them. 
(3) The bill rewards the ATF for its illegal Fast and Furious program with an extra $22 million. Eric Holder has thumbed his nose at Congress with respect to any accountability for this outrageous abuse, and yet the drafters have no problem rewarding him for his contempt of (and for) Congress. 
(4) The bill also provides $73 million for states like New York to impose gun bans when psychiatrists, as a result of its anti-gun "SAFE" Act, are forced by state law to report their patients, based on subjective determinations with no real due process.  Tens of thousands of people may experience unconstitutional gun bans in New York alone, thanks to this bill. 
(5) Moreover, the bill provides $3 million to encourage Americans to lock up their safety with trigger locks, so that their guns will not be available in connection with a burglary or armed home invasion. 
(6) Finally, as noted above, the bill fully funds the anti-gun ObamaCare law (which threatens the privacy of millions of gun owners) and the President's illegal executive amnesty (which begins a process of legalizing millions of new anti-gun voters).
Sure, the bill carries forward both pro- and anti-gun boilerplate from previous years. 
But the drafters put their money where their mouth is.  And that is in support of Obama's unconstitutional "executive action" gun control. 
PRO-GUN HEROES WHO NARROWLY MISSED TORPEDOING THE BILL
Pro-gun conservatives in the House came super close to derailing the Cromnibus on an earlier, parliamentary vote.  This is a vote which determines, among other things, whether any amendments will be allowed on the House floor during consideration of a particular bill.
Democrats typically vote in lock-step against the "rules vote," and Republicans typically vote in unison in favor of the rule.  
But 16 Republican heroes broke ranks, in an attempt to defeat the rule and derail the bill.  In fact, so many Republicans broke ranks that our side was temporarily winning until two Republican Congressmen defected by switching their votes at the last second, giving Boehner a razor thin 216-214 majority.  
Nevertheless, these 16 Republican defectors should be thanked for their bravery.  They were Reps. Justin Amash (Mich.), Michele Bachmann (Minn.), Dave Brat (Va.), Mo Brooks (Ala.), Paul Broun (Ga.), Louie Gohmert (Texas), Paul Gosar (Ariz.), Tim Huelskamp (Kan.), Walter Jones (N.C.), Jim Jordan (Ohio), Steve King (Iowa), Raúl Labrador (Idaho), Thomas Massie (Ky.), Bill Posey (Fla.), Matt Salmon (Ariz.) and Steve Stockman (Texas).
THE FIGHT NOW GOES TO THE SENATE
There is still one more battle, as the action now goes to the Senate. 
To defeat the bill in the Democrat-controlled Senate will presumably require only 41 votes because of the ability of Senators to filibuster. While, admittedly, it is a "hail Mary" pass, it is one worth throwing. 
ACTION:  Contact your Senators.  Ask them to vote against the anti-gun government funding bill, both on cloture and on final passage (which will probably consist of a vote on concurring with the House amendment). 
NOTE: This alert contains different messages for Republican and Democrat Representatives. By using the GOA Engage site to contact your Representative, the system will automatically select the correct letter.
Featured GOA News & Updates