Gun groups rally against Loretta Lynch
Written by Tim Devaney of The Hill
Published: 19 March 2015
Gun groups rally against Loretta Lynch
Gun rights groups are making a vigorous push to stop the Senate from confirming Loretta Lynch as President Obama's next attorney general.
Advocates are organizing petitions, drawing up letters and hitting the phones to urge Senate Republicans to oppose Lynch in a floor vote that could take place as early as next week.
The National Rifle Association (NRA) has sent an alert to its members warning that Obama's nominee would put gun rights at risk….
The Gun Owners of America, meanwhile, is drafting a letter along with about 20 other groups that will be sent to Senate Majority Leader Mitch McConnell (R-Ky.).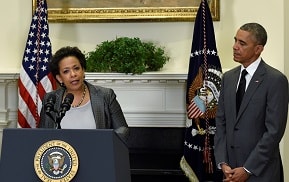 The letter, which was obtained exclusively by The Hill, refers to Lynch as "Eric Holder in a skirt" and asks McConnell not to bring her nomination to the floor unless Democrats can find the 60 supporters needed to break a filibuster.
The group's letter reminds McConnell that it campaigned against Senate Democrats in the 2012 elections so that the upper chamber would be under Republican control.
"Please do not use the Lynch nomination to tell us that, whoever nominally controls the Senate in 2017, [Sen.] Harry Reid [D-Nev.] and/or [Sen.] Chuck Schumer [D.N.Y.] will continue to control it in fact. To do so would signal that the 2016 Senate elections don't matter," the letter states.
Lynch enjoys universal support from Democrats and four Republicans have publicly endorsed her, likely giving her at least 50 votes. 
McConnell earlier this week delayed the confirmation vote until the Senate wraps up debate on the human trafficking bill, but has previously indicated he will eventually bring the nomination to the floor.
Many prominent Senate Republicans plan to oppose Lynch because she endorsed Obama's executive actions on immigration, which would defer deportations for millions of people.
The Gun Owners of America group notes Lynch's stance on the immigration actions in its letter, saying she has "made it clear she intends to pursue and defend her predecessor's unlawful executive amnesty."
Featured GOA News & Updates