Will South Carolina Peel Back Onerous Gun Control Restrictions?
Written by admin
Published: 20 March 2015
Your help is desperately needed to repeal gun control!
South Carolina is a state where people care about their freedoms and their constitutional rights. 
So it is great news that legislation in the Palmetto State would rescind some of the onerous restrictions that plague gun owners.  Here are four bills that need your action soon.
(1) Constitutional Carry (S 105 and HB 3716).  
Senator Lee Bright (R-Greenville & Spartanburg) and Rep. Jonathon Hill (R-Anderson) have introduced legislation to make South Carolina the seventh "constitutional carry" state in the country. 
The concept of "constitutional carry" is simple:  An individual's ability to exercise his or her Second Amendment rights shouldn't depend on a "permit" from the government.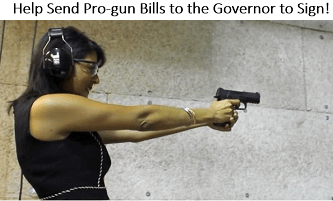 You don't need a government license to write a book.  So why should you have to get the government's okay in order to carry a firearm to protect yourself and your family? 
Currently, Americans in Vermont, Alaska, Wyoming, Arizona, Arkansas, and most of Montana can carry a firearm without a government license.  Lest anyone fail to notice, these are not exactly high-crime areas as a result of their diligence for the constitutional rights of their citizens.  In fact, these are some of the safest places in America. 
S 105 and HB 3716 would add South Carolina to that illustrious list of Constitution-loving states. However, both bills are stuck in committee and need your help to blast it out onto the floors of each chamber.
(2) Blocking federal gun control (S 125 and S 117, by Senator Lee Bright).  
The first bill, S 125, is modeled after legislation that has been enacted in several states across the country.
The bill declares that all "federal acts, laws, executive orders, rules [and] regulations" which violate the Second Amendment are void and "have no effect in this State."
Thus, S 125 prohibits all federal, state and local officials from enforcing such gun control restrictions.  
The second bill, S 117, does everything the first bill does, but adds another pro-gun provision.  Namely, with few exceptions, any firearm or ammunition that is manufactured in the state (and stays in the state) would be free of gun control restrictions.
The bill would require that guns and ammunition manufactured in the state be stamped with the words, "Made in South Carolina."  But once stamped with this phrase, these items are "not subject to federal law or federal regulation, including registration."
And any official who attempts to restrict the possession of such firearm or ammunition would be guilty of a felony and would lose all of their rights.
ACTION: Urge your state Representative and Senator to support these pro-gun bills.  By using this link here, you can automatically send pre-written letters to each of your legislators.
Featured GOA News & Updates