GOA punches back against Biden's Ministry of Truth
Written by Erich Pratt
Published: 09 May 2022
Biden's 'Ministry of Truth' to Silence Gun Owners
On Thursday, Gun Owners of America (GOA) and Gun Owners Foundation (GOF) filed a Freedom of Information Act (FOIA) request with the U.S. Department of Homeland Security (DHS) asking key questions about the Biden Administration's plans to create a "Disinformation Governance Board."
The Biden Administration is taking a concept out of George Orwell's classic work, 1984, where the Ministry of Truth is tasked with deciding what is, in fact, true or false.
In Biden's America, the "Ministry of Truth" will operate under the moniker of the Disinformation Governance Board, which will be chaired by left-wing dystopian author Nina Jankowicz, who has called for censorship and spewed several far-Left conspiracy theories in past years.
In a statement released to the press, GOA Senior Vice President Erich Pratt stated, "Once again, this administration is orchestrating not-so-subtle actions to restrict the Constitutional rights of Americans, especially those who disagree with the Left's radical agenda.
"This direct threat on our First Amendment rights can be viewed as nothing more than a precursor to further chip away at our Second Amendment rights," Pratt said. "We look forward to reviewing the records from this FOIA request to expose this proposed Ministry of Truth for what it really is — a political attempt to silence dissenting views."
As we explain here and here, GOA has experienced the fangs of Leftists censorship on multiple occasions. So putting a "Ministry of Truth" inside the federal government would only exacerbate this problem.
GOA and GOF's FOIA request demands specific records related to the selection of Board members … about how the Board will surveil the American people … whether Elon Musk's purchase of Twitter was a consideration in establishing the Board, and much more. This information will be shared with congressmen who have introduced legislation to defund the Board.
Stay tuned for further updates.
---
Judge Sides Against Anti-gun Sheriff in GOA-backed Case
A Superior Court Judge has issued a preliminary injunction against an anti-gun sheriff in a case brought by Gun Owners of America and Grass Roots North Carolina (GRNC).
The abuses committed against gun owners—by the sheriff in Mecklenburg County, North Carolina—are egregious.
State law requires sheriffs to issue pistol purchase permits within 14 days and carry permits within 45 days. But on both accounts, Sheriff Garry McFadden has refused to act in a timely manner—at times, forcing law-abiding gun owners to wait almost a year before they can exercise their constitutionally-protected rights.
In a statement to the press, GOA Senior Vice President said:
"Sheriff McFadden is enforcing Jim Crow-era gun control with a vengeance," Pratt said. "This is yet another reason why North Carolina must enact permitless carry and repeal the requirement to secure a pistol permit before purchasing a handgun. Our right to bear arms in self-defense should not be put on hold by lawless sheriffs, who use their power to disarm innocent civilians."
The judge sided on behalf of GOA and GRNC, concluding that both organizations "have shown a likelihood of success on the merits and are likely to suffer irreparable harm in the absence of injunctive relief."
---
GOA Dominating News Cycle Against Gun Owner Registration
Thanks to your support of Gun Owners of America, you are helping GOA to frame the gun rights issue in news stories across the country.
As you will recall, the Biden administration recently produced a final rule from the ATF which cracks down on homemade guns and expands the ATF's illegal registry which has nearly a billion records.
Because GOA was prepared and responded immediately, mainstream news outlets such as The Washington Post, CNN, USA Today, PBS, UK Independent, CBS, NPR, the Associated Press—and even Al Jazeera have been deferring to GOA as the top gun rights organization following this issue.
Not only that, GOA's involvement also has helped drive the discussion among both the Left and the Right.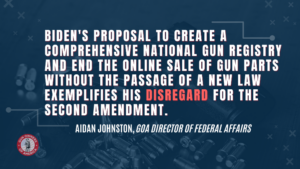 Senior Vice President Erich Pratt's piece in the Philadelphia Inquirer prompted an anti-gun response from the Chicago Tribune, and a pro-gun response from YouTube channels like Bearing Arms.
In addition to helping shape the news, GOA is also working with legislators to smack down President Biden's unconstitutional rule in Congress.
And GOA will soon be launching a simultaneous lawsuit in the courts.
So stay tuned for more alerts on these topics.
---
GOA in the News
GOA's Florida Director Luis Valdes appeared on Guns & Gadgets to call gun owners across the nation to action. Urge Gov. Ron DeSantis to call a special session for Constitutional Carry. DeSantis will listen, even if you live out-of-state. Why? Because your tourism dollars depend on it.
Be sure to check out GOA's recent, smokin' hot article in the Daily Caller.  GOA Director of Federal Affairs Aidan Johnston pins Rep. Eric Swalwell to the mat, after Swalwell claimed that Joe Biden doesn't want to take away people's guns, and that there is no such thing as a gun owner registry.
Plus Bearing Arms reports on GOA's efforts to support a repeal of Biden's gun registry. GOA is supporting efforts by Sen. Ted Cruz (R-TX) and 21 other Senators to rescind Biden's new anti-gun rule and his gun owner registry. Read the article here.
Featured GOA News & Updates