More states get rid of requiring concealed weapons licenses; Florida could be next
Written by Angie DiMichele, South Florida Sun-Sentinel
Published: 20 December 2021
Florida could become the next state in a growing number that allows people to carry their guns, openly or concealed, without requiring a permit.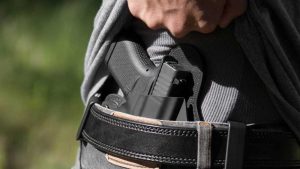 Gun owners who now carry hidden under their clothes would be able to walk freely into coffee shops, grocery stores and other public places with their weapons visible.
The topic of "constitutional carry" is again surfacing this legislative session as a priority for conservatives and gun advocates in Florida.
Proponents say allowing gun owners to carry openly or concealed without licenses reflects the Second Amendment, that it will deter crime and remove cost barriers and time lags for people who want to defend themselves, with the Florida Department of Agriculture and Consumer Services saying the turn-around time to get the license is about 50 to 55 days.
Opponents worry about what kind of atmosphere it could create in Florida, raise safety concerns for the public and law enforcement and say data shows more guns carried in public places lead to increased violent crime…
A Republican state legislator has filed the bill for the third year in a row, and recently, Gov. Ron DeSantis, who is seeking re-election in 2022 and widely believed to be considering a run for president in 2024, said he supported the bill.
In the six-second video recently posted online, Matt Collins, director of legislation for Florida Gun Rights, asks DeSantis, "If constitutional carry made your desk, would you sign it?"…
The bill, sponsored by Rep. Anthony Sabatini, R-Howey-in-the-Hills, would both remove the requirement of a concealed weapons license in order to carry a gun and allow Floridians to carry them visibly. It also means no gun owner would have to pay an application fee, a fingerprinting fee and varying costs for the required safety training courses or classes — some of the current application requirements.
The bill would also reduce the penalty for bringing a gun into a prohibited place, such as courthouses, polling places and campuses, from a third-degree felony to a second-degree misdemeanor — changing the maximum punishment from five years in prison and up to a $5,000 fine to 60 days in jail and a maximum $500 fine…
Anybody who can legally own a gun "should be able to carry a firearm at any given time," Sabatini told the South Florida Sun Sentinel. "I think it's important to have a law on the books to allow people to defend themselves without government permission."
Luis Valdes, Florida state director for Gun Owners of America and retired Florida law enforcement officer who supports the bill, said the current license requirement in Florida "turns a right into a privilege," one that proponents fear could be taken away.
"The idea of having to get a permission slip from the government to exercise an inalienable right that an individual is born with is ludicrous. That's why 21 states have passed it," Valdes said….
Read more at The Sun Sentinel
Featured GOA News & Updates