GOA backs 2A Activist Maj Toure for Philadelphia City Council
Maj Toure is a Second Amendment champion.
He's the founder of Black Guns Matter — an effort to educate and train those, especially in urban communities, about firearm safety and Second Amendment rights.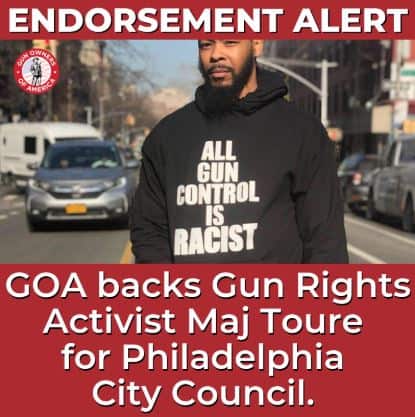 For years, he's traveled to communities and cities across the country discussing the ideas of freedom enshrined in the Second Amendment, all without compromising.
Maj has "walked the talk" on what it means to be a gun rights activist, and now he's running for Philadelphia's city council.
In fact, the City of Brotherly Love needs a gun rights hero on its city council. Just consider that Pittsburgh city leaders are bucking the Commonwealth's preemption laws, banning AR-15s and implementing other gun controls.
Maj will stand firm for Philadelphians' right to keep and bear arms on the city council. In fact, he's returned a survey 100 percent in favor of your Second Amendment rights.
GOA personnel have gotten a chance to get to know Maj, sharing the stage with him at speaking events and engaging with him at his Solutionary Roundtables. And we know firsthand, that Maj is a Second Amendment warrior.
But to be frank, Maj is counting on your grassroots support to win this election. So please consider donating or volunteering your time and resources to Maj's campaign.
GOA is backing Maj, and you should too.
In liberty,

Tim Macy
Chairman
Gun Owners of America
P.S. GOA is proud to endorse gun rights activist Maj Toure for Philadelphia's city council. Please considering donating and volunteering for Maj's campaign.
Featured GOA News & Updates