GOA Says Joe Biden's Gun Plan Could Bankrupt the Firearms Industry
Written by Jake Dima, Daily Caller
Published: 24 November 2020
"[Biden's plan] means that gun manufacturers could ultimately be put out of business through frivolous lawsuits," GOA's Erich Pratt said in a phone interview. "It's totally irresponsible, imagine holding Ford or GM responsible for the damage caused by hit-and-run drivers."
---
President-elect Joe Biden's gun control plan, which in part seeks to remove liability protections on firearm manufacturers and dealers, could bankrupt major players in the weapons industry, two advocates said.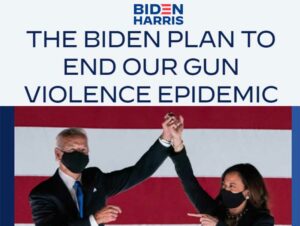 The former vice president's "Plan To End Our Gun Violence Epidemic" seeks to repeal the Protection of Lawful Commerce In Arms Act, which affords firearms dealers and manufacturers legal protection against lawsuits that may result from the misuse of weapons or ammunition sold to the public. Such a measure would effectively leave dealers and sellers vulnerable to wrongful death and injury lawsuits that target the weapon, rather than the perpetrator, senior vice president of the Gun Owners of America Erich Pratt told the Daily Caller News Foundation.
"[Biden's plan] means that gun manufacturers could ultimately be put out of business through frivolous lawsuits, Pratt said in a phone interview."It's totally irresponsible, imagine holding Ford or GM responsible for the damage caused by hit-and-run drivers. We wouldn't tolerate that and yet that's exactly the type of legal theory they're trying to put on gun manufacturers."
Kevin Jamison, a Missouri self-defense lawyer and firearms trainer, said "The guys pushing these lawsuits, they don't care if they win. They care if they can force these companies to hemorrhage money. They are in the business of putting gun companies out of business."
Remington Arms Company, which has been producing firearms since 1816, went bankrupt in late September after the corporation was sued by the families of the victims involved in the deadly 2012 Sandy Hook school shooting, according to Fox Business. The gunman used a Bushmaster, a sub-company of Remington, AR-15 during the shooting, Fox reported…
Pratt said the country will be seeing "more" of these lawsuits and he added that Remington's bankruptcy "was the desired intent" of the legal procedure. Jamison called the theories behind the gun litigation "absurd" and said the lawsuits have been allowed to continue even under the Commerce In Arms Act because of misguided courts.
"They've gotten away with it because the courts have indulged these absurd theories of law," the gun lawyer said. "It's a disaster. It has been very bad the last few years, yes, but it's going to be the death of mom and pop and gun shops — individually-owned gun shops — and some of these companies."
Pratt sees the potential for America's gun industry as a whole to crumble under the weight of litigation that could result from Biden's plan.
"The idea of the left would be 'oh sure you can have a Second Amendment right, too bad you just can't find any guns that are being produced and manufactured,'" he said.
Read more at Daily Caller