Gun rights groups rally at Capitol
Written by John Finnerty/CNHI
Published: 06 May 2019
Several hundred gun rights protesters rallied at the state Capitol on Monday, warning lawmakers against passing legislation that would tighten the state's gun laws. The annual rally took place with a heightened sense of urgency as gun control groups have been ratcheting up pressure on lawmakers in the wake of school shootings nationally, as well as tragedies closer to home, such as the Tree of Life synagogue shooting in Pittsburgh.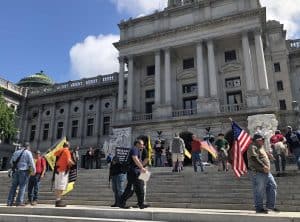 Speakers including state Sen. Kristin Phillips-Hill, R- York County, made reference to the Tree of Life shooting and other attacks on churches and synagogues, including one on April 29 in Poway, California.
Phillips-Hill called the shootings attacks on "our rights to worship and our right to life," but added that, "states with the strictest gun laws have not prevented attacks."
She said gun-owners should not be "made scapegoats" as lawmakers look for ways to respond to mass shootings…
Last month, the General Assembly held its first memorial joint session of the Legislature since the 9/11 attacks to honor the victims killed in the October Tree of Life shooting. At the time, gun control lobbyists said they hope that anger over such attacks will motivate lawmakers to pass additional gun bills, including a so-called Red Flag bill. That legislation would make it easier for relatives to get a court order to take guns away from people considered a danger to themselves or others…
Gun rights lobbyists say efforts the red flag laws make it too easy to take guns away from people and creates situations that force gun owners to prove that they should be allowed to keep their guns instead of providing them a presumption of innocence.
Erich Pratt, executive director of Gun Owners of America used the acronym RINO to disparage "Republicans in Name Only" who support the red flag legislation.
Their support of the bill, he said, is "heinous."
Pratt pointed to a November police shooting in Maryland as evidence that red flag laws are flawed.
In that incident, police shot and killed 61-year-old Gary Willis, of Ferndale, Md., while going to his house to serve an extreme-risk protection order.
"He's dead now," Pratt said. "Gary Willis didn't get any due process."
Featured GOA News & Updates