Gun-rights group applauds gains in Virginia background check lawsuit, says fight continues
Written by Tyler Arnold | The Center Square
Published: 16 July 2020
Despite a circuit court's refusal to grant a full injunction to stop expanded background checks in Virginia, a gun-rights group involved in the lawsuit is grateful for its gains and looks forward to continuing the lawsuit.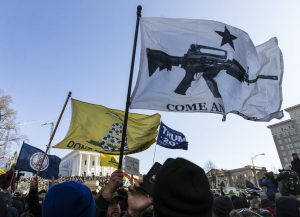 "While keeping in mind that [Tuesday's] ruling is on the temporary injunction – and not the case as a whole – there is much to celebrate in [Tuesday's] decision," Erich Pratt, a senior vice president of Gun Owners of America, told The Center Square.
In his ruling Tuesday, Lynchburg Circuit Court Judge Patrick Yeatts denied an injunction requested by gun rights advocates because he said it is within the state's authority to put conditions on the sale of firearms, whether it be a private or a commercial sale. The state already conducted background checks on commercial sales, but the new law expanded them to most private sales.
Although the court ruled the law was facially constitutional, it found its enforcement has not been fully constitutional. State law allows adults aged 18 to 20 to purchase a handgun through a private sale, but the age for a commercial sale is 21. Because the background check automatically rejects applicants under the age of 21, the judge ruled this infringes on a person's right to bear arms and granted a partial injunction to halt enforcement of this part of the law.
"This is a historic victory," Pratt said. "According to statements made in court by the solicitor general, no court has ever before issued a temporary injunction to invalidate an act from the General Assembly – that is, until [Tuesday]. Obviously, we would have wished to see the judge extend the injunction to all private transactions, and we will continue to press ahead with the case."
The judge also threw out one of the commonwealth's legal arguments in defense of the law. He ruled a judge cannot use a sliding scale framework that would balance empirical judgements and the text of the constitutional protection. Rather, he said he will follow a history-and-tradition framework.
"The court's opinion provides one of the most comprehensive rejections of balancing tests that we have seen in courts throughout the country," Pratt said. "The opinion dismantles the commonwealth's legal arguments piece by piece, rejecting the idea that judges can use a 'sliding-scale framework' and can jiggle empirical arguments in a way that overrides constitutionally-protected rights."
Read more at The Center Square