'Unprecedented': Missouri Lawyer Says Political Posturing Is To Blame For St. Louis Couple's Gun Seizure
Written by Jake Dima, Daily Caller
Published: 17 July 2020
A Missouri attorney said political posturing is the reason that the St. Louis couple who went viral for defending their mansion with guns had their firearms seized with charges looming.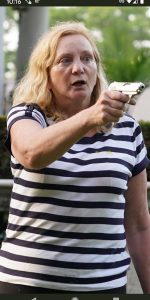 Attorney Kevin Jamison, author of the book Missouri Weapons and Self-Defense Law, said the case against Mark and Patricia McCloskey, the duo that has become well-known for warding off protesters with an M16A2-style rifle and handgun, is "weak to say the least." Jamison suspects political bias to have played a role in the circuit attorney's decision to  seize the McCloskey guns and ponder charges, he told the Daily Caller News Foundation in an interview.
"The prosecutor has a lot of latitude in filing charges, but I think she's here just to posture for her political base," Jamison told the DCNF. "We have a legal system that is operated by people, and people bring their prejudices with them when they come to work."…
"[They said] that they were going to kill us," Patricia McCloskey told Fox News. "They were going to come in there. They were going to burn down the house."
Jamison, who has over 30 years of law experience, can only cite one other case from memory where the person who dialed 911 wasn't considered the victim in the eyes of the law.
"The first person to call 911 is almost always the victim," Jamison said. "It is unprecedented for the first person to call 911 being arrested and harassed in this manner."…
The Gun Owners of America, a prominent pro-Second Amendment group, slammed Gardner for her decision to confiscate the couple's guns.
"The circuit attorney in St. Louis, Kim Gardner (D), has demonstrated her disrespect for gun owners, the Second Amendment and the basic human right to armed self-defense by confiscating Mark McCloskey's AR-15," GOA Senior Vice President Erich Pratt said in a statement given to the DCNF.
Read more at Daily Caller
Featured GOA News & Updates