New York Dems Push Gun Control After Truck Attack
Written by Brendan Kirby, PoliZette
Published: 02 November 2017
New York Dems Push Gun Control After Truck Attack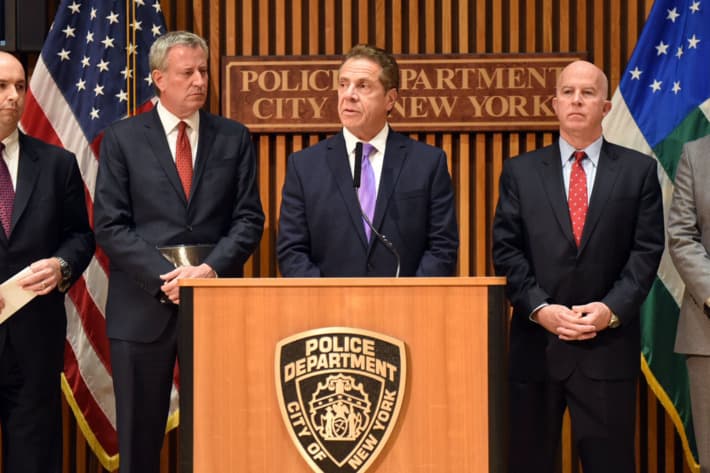 "[New York Mayors] have a real fear of an armed populace." — Larry Pratt
---
New York Dems Push Gun Control After Truck Attack
A Muslim extremist bent on hatred of the West plowed a rented pickup truck into a group of pedestrians in Manhattan. So, naturally, New York's leading politicians reacted by calling for more restrictive gun laws.
New York City Mayor Bill de Blasio spoke about the issue Wednesday at a news conference to update the public about Tuesday's attack.
"There's a much bigger conversation we could have about gun safety," he said. "The NYPD has always vigorously believed that we need to keep guns out of this city and that gun safety laws are here to protect us and protect our officers."
New York Gov. Andrew Cuomo echoed de Blasio's comments and praised the 2013 passage of the Secure Ammunition and Firearms Enforcement Act, which prohibits certain kinds of firearms defined as "assault weapons," limits the size of high-capacity magazines, and requires criminal background checks for people buying ammunition.
"As far as gun laws, I am increasingly proud that New York State passed some of the smartest gun laws in the country, the SAFE Act," he said at the news conference. "I think it is madness the number of assault weapons that we have in this country. I think that it endangers law enforcement. I think that it costs us untold numbers of deaths. And I hope that one day we'll have a federal policy that actually brings sanity to the gun policy laws in this country."
Click here to see more GOA News articles like this one.
The comments may strike some as strange, since the attacker who killed eight people on Tuesday, Sayfullo Saipov, used a vehicle to do it, not a gun.
But Larry Pratt, executive director emeritus of Gun Owners of America, noted that former New York City Mayor David Dinkins once used a knife attack as justification for gun control.
"That's what New York City mayors do," he told LifeZette. "It does illustrate a continuation of a default reaction by New York City politicians, from Dinkins to de Blasio … They have a real fear of an armed populace."
Featured GOA News & Updates