Grassroots Gun Owners Hold Huge Sway in Virginia Politics
Written by Mechelle Hankerson, Virginia Mercury
Published: 12 July 2019
Before the short special session on gun control earlier this week, hundreds of gun rights advocates poured into the city block around the capitol and legislative building. 
They wore shirts and hats with the National Rifle Association's logo and sported bright orange "Guns Save Lives" stickers. Some showed up with handguns in holsters. Others carried rifles slung over their shoulders.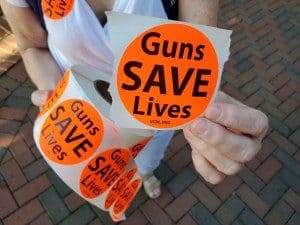 They filled House and Senate chambers, hallways and afternoon committee meetings…. 
The NRA and two other pro-gun organizations, Gun Owners of America and the Virginia Citizens Defense League, are membership-based and send regular email, text and social media alerts about pending legislation or other political actions. The alerts often call on members to vote or show up on important days, like this week's special session. 
"We're very focused on grassroots and in fact, that's kind of our bread and butter," said Jordan Stein, spokesperson for the Virginia-based Gun Owners of America. "I think it's more of a constitutional approach to let the voters hold their elected officials accountable."
Between 1997 and 2013, Gun Owners of America gave $21,000 to Republican politicians and its own PAC.
The Virginia Citizens Defense League, another grassroots group that opposes stricter gun laws, gave $91,000 to various Republican campaigns between 2002 and 2018.
"We don't have any billionaires laying around who want to contribute," said Philip Van Cleave, president of the Virginia Citizens Defense League, mentioning Everytown for Gun Safety, a gun reform group funded by former New York City Mayor Michael Bloomberg. That organization has given $4.7 million since 2013 to various Virginia Democratic campaigns, PACs and the state Democratic party.
"We don't have that kind of money to fight back but it's not all about money, it's about getting the right people elected. What we have is grassroots, we have people out there," Van Cleave said.
Many gun owners are passionate about not changing Virginia's gun laws and make that the deciding factor when voting, he said. People who want to tighten gun laws typically don't vote like that, Van Cleave said.
'They want the A-rating … not the money'
There can be intense political pressure that comes with voting against groups like the VCDL, Gun Owners of America and especially the NRA, said Bob Holsworth, a longtime Virginia political analyst.
Featured GOA News & Updates