GOA Seeks to 'Dismantle the National Firearms Act'
Written by Russ Chastain, All Outdoor
Published: 13 February 2019
I have long admired Gun Owners of America (GOA) for a number of reasons, mainly because they do not compromise on our rights. While other organizations endorse anti-gun laws while claiming to stand against such infringements, GOA has remained the one and only no-compromise gun rights lobby in Washington, DC.
In a recent Facebook video, GOA's Executive Director Erich Pratt updates viewers on their progress to not only defend a disabled military veteran wrongly convicted as a felon under the Obama administration, but to use the case as a golden opportunity to actually fight against the National Firearms Act (NFA), which is a sweeping and blatant infringement of our Second Amendment rights.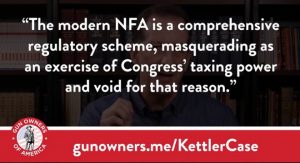 We truly believe that if this case is taken up by the Supreme Court, it will deal a massive blow to the NFA, rolling back much of its onerous gun control.
You can read more about the Kettler v. US case on GOA's website. In short, Jeremy Kettler purchased a suppressor under a Kansas state law allowing Kansas residents to do so without being subject to federal regulation and the $200 stamp. The feds ignored the state law and prosecuted Kettler. GOA helped defend him and managed to keep him out of prison, but he is now a convicted felon for believing in and following the laws of his own home state.
Read more GOA in the News articles here.
Last month, GOA and Gun Owners Foundation (GOF) attorneys asked the U.S. Supreme Court to hear Jeremy's case.
In the short video, Pratt says this is a case "that could deal a huge blow to the NFA."
He briefly explains why the NFA is unconstitutional, and cites a favorite quote from the legal petition:
The modern NFA is a comprehensive regulatory scheme, masquerading as an exercise of Congress' taxing power and void for that reason.
He ends the video by saying, "At Gun Owners of America, this is what we're all about. Not only defending the Second Amendment, but using the 'shall not be infringed' language… as THE standard to limit judges and government officials, just as our founders intended."
And this is why I'm a GOA member.
Featured GOA News & Updates