FL Rep. Michelle Salzman Threatens Pro-Gun Hispanic Organization For Promoting Constitutional Carry
Written by Luis Valdes
Published: 16 February 2022
As your State Director, it is with a heavy heart that I say this.
The Republican In Name Only (RINO) establishment has attacked an ally of Gun Owners of America in our State Capitol. The Republican National Hispanic Assembly (RNHA) of Florida is being dragged through the muck by Florida Republican 1st District State Representative Michelle Salzman.
GOA is a no-compromise organization that stands for liberty and protecting our Second Amendment rights.  GOA will not sit idle while one of our own is attacked by the political establishment who refuses to uphold the ideals that our Republic was founded upon.
I ask that you contact Rep. Salzman by calling her Capitol office at 850-717-5001, her District office at 850-941-6091, or by emailing her at [email protected] and let her know that you don't support political bullying and stand by the RNHA.
The RNHA has publicly come to our aid when we called out Rep. Cord Byrd (R-FL) for killing Constitutional Carry last year. Additionally, they have publicly stated where they stand on Constitutional Carry and House Bill 103 this session.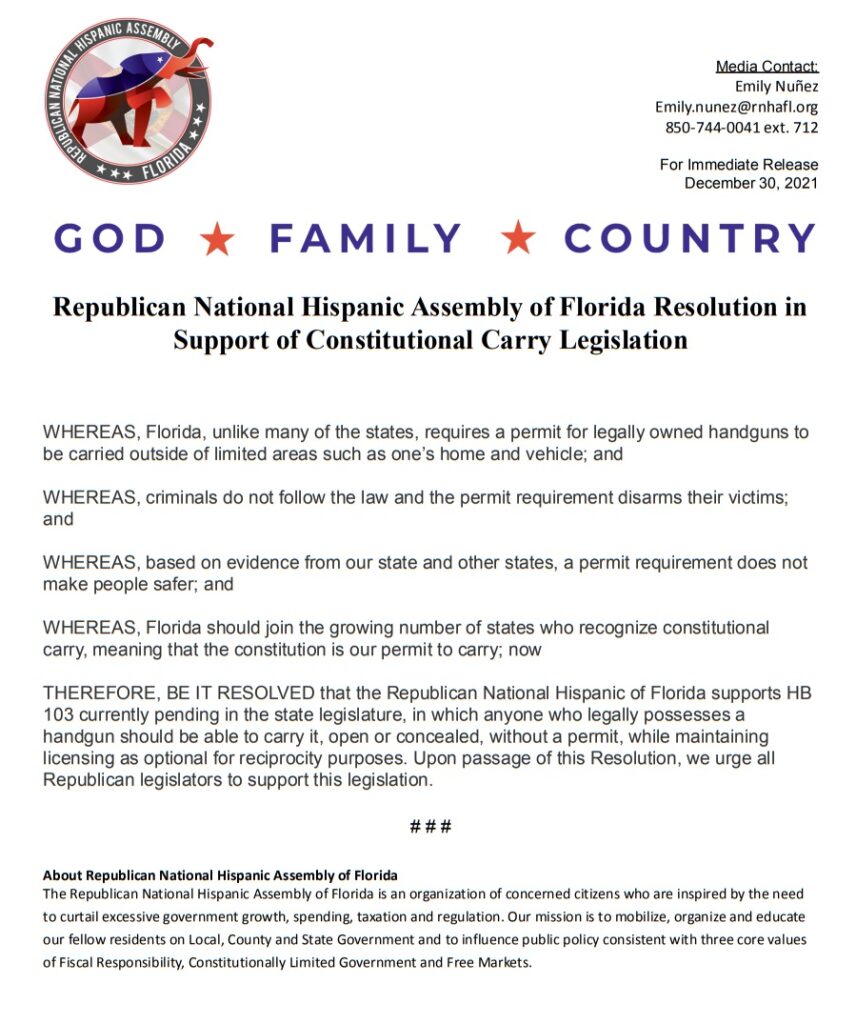 Rep. Salzman's attack against the RNHA is vile and reeks of a corrupt party establishment trying to circle the wagons. Remember, politicians are elected officials and they serve the people. Yet, in the shocking video you're about to see, Rep. Salzman is serving her political (RINO) masters and is implementing an agenda other than 2A.
This video is of a PUBLIC MEETING between the RNHA and Rep. Salzman. The RNHA went to our Capitol earlier this session to lobby for Floridian's civil rights, including gun rights. The RNHA is not a single-issue organization. However, they are very passionate when it comes to gun rights and as such, they took the opportunity and brought up HB 103 (Carrying of Firearms Without Licenses) with Rep. Salzman. Now, you may not know this, but someone in the RNHA recorded the meeting and posted it on social media — and provided GOA with a copy of the video, too.
As you saw in the video, Rep. Salzman stated that the Republican leadership will not bring the bill up for a vote since that very leadership is the one that pushed the Marjory Stoneman Douglas Safety Act (gun control bill passed in 2018 by Republicans) after the Parkland shooting. Lastly, she stated that "it isn't the right time" and that "as a professional courtesy," she will not go against the leadership that is killing Constitutional Carry.
It has come to GOA's attention that Rep. Salzman is now threatening to have a criminal investigation opened against the RNHA for recording the meeting. As a former law enforcement officer, I find it hard to believe there is any standing for such action. Especially since there was no criminal intent on the party that recorded it in the first place, and it was in a public space as a public meeting.
Under State Statute 934.03, Florida law makes an exception for in-person communications when the parties do not have a reasonable expectation of privacy in the conversation, such as when they are engaged in conversation in a public place where they might reasonably be overheard.
Furthermore, a public meeting has no expectation of privacy and Floridians are permitted to use sound or video recording devices, so long as the recording does not disrupt the meeting.
The RNHA's meeting was a public event. They met with Rep. Salzman at the Capitol (a public building) as a large group of politically educated and active Floridians to address matters pertaining to the public. They met with a public official (Rep. Salzman is a public official) and discussed public matters (legislation like HB 103). The meeting itself took place in a communal conference room in the Capitol, where the doors were wide open, where anyone walking by could enter or simply overhear the conversation while standing in the hallway of the Capitol.
This was not a secretive meeting in Rep. Salzman's private office behind closed doors. This was Rep. Salzman meeting with the public to discuss public issues as a public official in a public space in the Capitol, which is a public space itself.
The fact that her office is now threatening the RNHA is unquestioningly wrong. This is political bullying since this video airs the truth about what and where our Republican legislative leadership stands on the matter of Constitutional Carry. Additionally, the word is that the RNHA is now being blacklisted and will not be heard in any committee meeting when legislation is being discussed and public comments can occur.
I know for a fact that political bullying is happening, with Rep. Salzman threatening legal action. But if the RNHA is also being blacklisted, that is damning on many levels and reminds me of what my family experienced in Communist Cuba — where a person is labeled as a political dissident and made an "unperson" and silenced from all public interactions with their community and government.
Last I checked, this is the United State of America, not Communist Cuba. And the people have the right to exercise their First Amendment rights.
But what makes this worse, this is a Republican lawmaker doing this. GOA will not stand by this, no matter the politician's party registration. The First Amendment is just as crucial as the Second Amendment.
Again, I ask that you call Rep. Salzman at her Capitol office at 850-717-5001 and her District office at 850-941-6091.
Tell her that you stand with the RNHA and that you are against such bullying tactics that exist in places like Communist Cuba, Venezuela, and North Korea. Tell her that you will not stand for her siding with her political masters and throwing Constitutional Carry under the bus because it is a "professional curtesy."
For our Spanish speakers.
Rep. Michelle Salzman (R-FL) es una legisladora del partido republicano que representa al área de Pensacola en nuestra legislatura estatal. A atacado a la Asamblea Nacional Hispana Republicana de Florida por grabar una reunion publica en la que ella se puso del lado de sus maestros políticos y no de los cuidadanos. La reunión estaba discutiendo el tema de los derechos de armas y le dijo a la RNHA que ella no respaldará esa legislación en ese momento, ya que sus maestros políticos están contra las personas que ejercen sus derechos de armas.
Le pido que llame a la Rep. Salzman, llamando a su Capitol Office al 850-717-5001 y su oficina del distrito al 850-941-6091.
Dígale que está de acuerdo con el RNHA y que está en contra de tales tácticas de intimidación que existen en lugares como Comunista Cuba, Venezuela y Corea del Norte. Dígale que no estará de acuerdo con las acciones de ella y sus maestros politico. Digale a salzman que no acceptamos la posicion que ella ha adoptado donde ella respalda los maestros politicos de su partido cuando esa posicion no respeta los derechos constitucionales de los ciudadanos, por razones de "cortesia profesional."
In Liberty
Luis Valdes
Florida State Director
Gun Owners of America
P.S. Please distribute this alert to your pro-gun family and friends and urge them to take action. To renew your GOA membership or to join for the first time, please click here.
Featured GOA News & Updates