Feinstein Fumes as GOA Formally Files Bump Stock Suit
Written by admin
Published: 20 December 2018
Sen. Feinstein upset about GOA's lawsuit
---
Help GOA stay on the frontlines. Every dollar you contribute to GOA right now will be automatically doubled, thanks to a very generous GOA Life Member!
---
Senator Feinstein Rails Against Gun Owners of America
Dear Friend: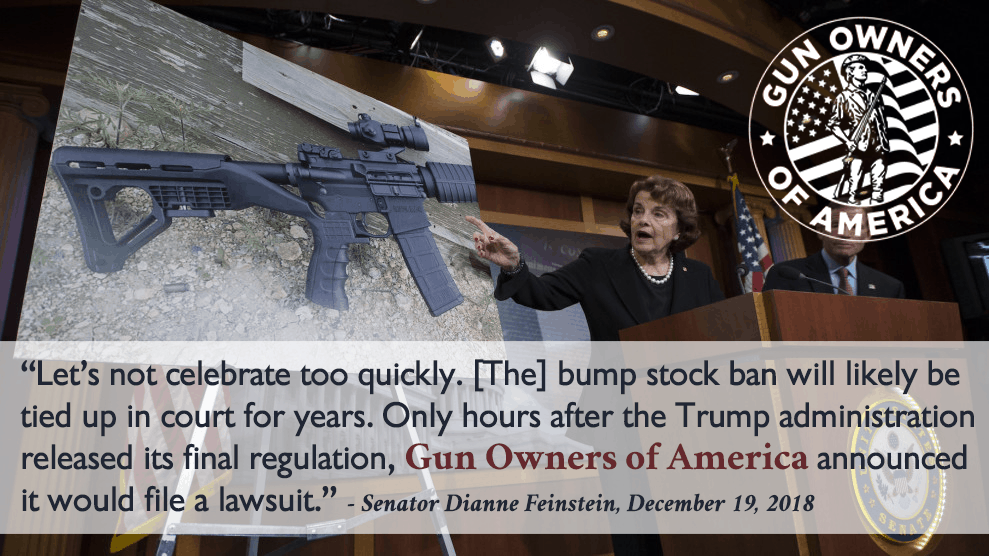 Gun Owners of America today filed its lawsuit challenging the Trump administration's illegal and unconstitutional bump stock ban.
GOA's action came on the same day the administration published the regulations in the Federal Register.
Already, gun control advocates have become very dispirited.
Senator Dianne Feinstein lamented that the lawsuit by Gun Owners of America would keep the bump stock ban "tied up in court for years."
Well, well. Wouldn't that just be a shame. LOL
Anyway, Gun Owners of America has filed its lawsuit in the Western District of Michigan. You can read it here and here.
Not coincidentally, Michigan is located within the jurisdiction of the Sixth Circuit Court of Appeals — a circuit which is not only very pro-gun, but also has been more skeptical of illegal government regulatory actions than many other circuits in the country.
Our suit will challenge the legality of ATF's action and ask for an injunction to stop enforcement of the regulations.
We are happy to report that the Virginia Citizens Defense League has joined the suit as a plaintiff — as has Tim from the Military Arms Channel and GOA's own Rachel Malone.
And I'm glad to report that several state gun organizations have contacted me and will be contributing financially to this case as well.
Two state organizations which have already partnered with us to financially support this case are the Oregon Firearms Federation and BamaCarry.
These two are just the tip of the iceberg, as other organizations are also interested. So we are looking forward to seeing even more state groups jump aboard!
Bump stock regs could lead to an AR-15 ban
Last week, I did a live broadcast to talk about the GOA lawsuit. You can click here to see that broadcast or click on the nearby screenshot.
The GOA suit questions the unconstitutional breadth of ATF's language. The ATF states: "…these devices convert an otherwise semiautomatic firearm into a machinegun."
But hold on a minute. If the bump stock converts an AR-15 into a machinegun, then AR-15s could be next on the chopping block.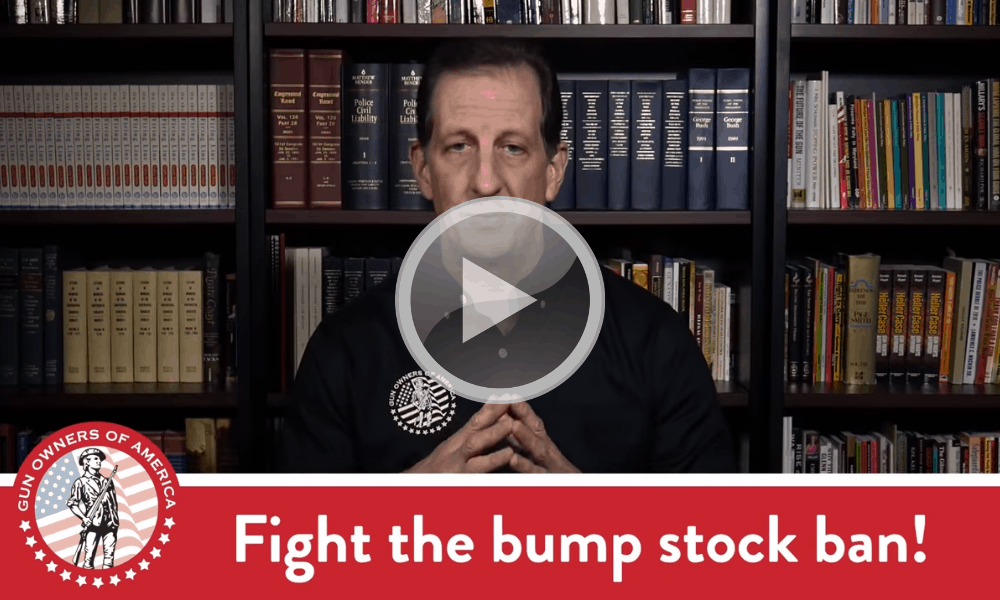 After all, there are other items which can help bump fire an AR-15: rubber bands, belt loops, etc.
So if bump firing an AR-15 turns it into a machine gun, then according to these ATF regs, the next anti-gun administration will have a choice: To either ban rubber bands or ban AR-15s.
Which one do you think they'll choose?
As soon as the next anti-gun Democrat is elected to the presidency — whether it's Elizabeth Warren or Bernie Sanders — you can bet that it will take advantage of Trump's precedential "semi-auto ban."
Finally, there is no "grandfather clause" or lengthy phase-in to the ATF's action.
Unless you destroy or surrender your bump stock within 90 days (with no compensation whatsoever) and sign a form saying you waive all your constitutional rights, the ATF is claiming that you are a felon — subject to 10 years in prison.
You can help support GOA's lawsuit against ATF
You may or may not own a bump stock. You may or may not like bump stocks.
But you can bet that the goal of gun grabbers is, ultimately, not just banning bump stocks, but, rather, putting "points on the board" toward its goal of banning civilian ownership of all firearms.
As you can see, there's a lot riding on this case, and we're expecting the legal costs to be massive.
So we need gun owners to rally behind this case!
Please help support this lawsuit to preserve our rights by contributing here.
As you consider your end-of-year giving, note that all donations to Gun Owners Foundation are tax deductible.
One last thing. There was other news in the world of gun rights recently.
Late last week, the Trump administration also issued a "school safety" report.
This report suggests that all states adopt legislation authorizing Gun Confiscation Orders (sugar-coated as "red flag" laws).
Please go here to see GOA's press release opposing these regulations.
Bottom line: if anyone thought the election of Donald Trump would put the Second Amendment community on "Easy Street," this apparently will not be the case.
But we have fought gun-grabbers in dire circumstances before.
And I pledge to you that Gun Owners of America will continue to fight for you now.
In Liberty,
Erich Pratt
Executive Director
Follow me on Twitter: @erichmpratt
P.S. It's official! GOA has filed suit against the ATF's illegal and unconstitutional bump stock ban. Please help support this bump stock case by giving a gift to Gun Owners Foundation.
Every dollar that you contribute to GOF is tax-deductible and will be automatically doubled for the rest of this month, thanks to a very generous GOA Life Member! So thank you for giving during this Matching Fund drive.
Featured GOA News & Updates