Constitutional Carry Still Alive in Texas Special Session
Written by admin
Published: 21 July 2017
Your Immediate Action is Requested to Get Constitutional Carry Passed!


Click on the Take Action button to urge your state representative to support efforts to bring up Constitutional Carry in the special session.
---
---
Constitutional Carry Still Alive in Texas Special Session
State Representative Jonathan Stickland (R) hasn't given up on his plan to pass Constitutional Carry in the special session of the Texas legislature which began July 18.  
And neither should we.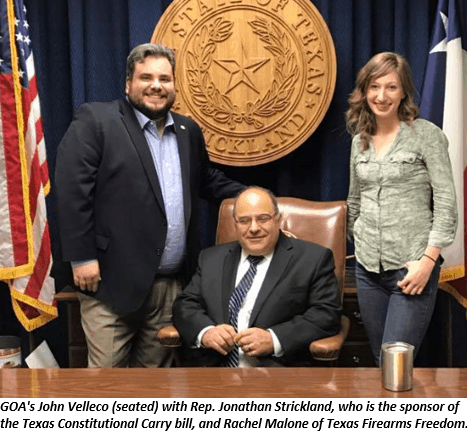 Texas Governor Greg Abbott called the special session to consider an agenda consisting of 20 items.  But none of these items is nearly as important as making Texas the 15th Constitutional Carry state.  
And there is no rule which would prohibit Constitutional Carry legislation from being considered in the special session, right along with the other items on Abbott's agenda.
As Stickland noted:  "[Constitutional carry] is still the No. 1 priority of the Republican Party of Texas."  
And although the slimy House Republican leadership succeeded in denying gun owners a vote in the regular session, we suspect it would carry handily if it were allowed to come to a vote.  
Basically, Constitutional Carry is nothing more than a recognition that Americans have a God-given right to carry a firearm to defend themselves — without first getting the government's permission to do so.
But in addition to the issue of individual liberty, the fact is that permitless carry states are safe states.  Four out of five of the safest states in the country do not require permits for carrying guns concealed.  
And in two early Constitutional Carry states — Alaska and Arizona — murder rates went down 30% after they enacted permitless carry laws.  
Guns in the hands of private citizens are a benefit to society. And our "men in blue" would agree.  A PoliceOne.com poll revealed that 91% of law enforcement favor concealed carry for civilians.
So please contact your state representative.  Demand that your representative support efforts to bring up Constitutional Carry in the special session.  
In Liberty,
Tim Macy
Chairman
Featured GOA News & Updates