We Cannot Afford to Stand By
Written by Gun Owners of America
Published: 01 November 2016
Stand Up for Gun Rights Next Tuesday
---
Not a GOA member yet? Join Gun Owners of America today and help GOA get pro-gun candidates elected across the country!
---
Get GOA's Voter Guide Into as Many Pro-Gun Hands as Possible
Election Day is just ONE WEEK away.
The presidential polls have tightened up, and both Hillary Clinton and Donald Trump are in a dead heat.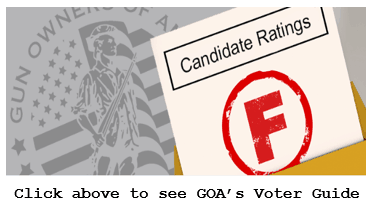 If Trump is able to pull out a victory next week, Gun Owners of America will be pushing full throttle to purse an aggressive, pro-gun agenda.
These are just a few of the things that GOA wants to accomplish:
* Pass Concealed Carry reciprocity into law.
* Remove the U.S. as a signatory on the U.N. Armed Trade Treaty.
* Repeal every single anti-gun executive action that Obama implemented, including the gun ban on seniors, the draconian restrictions on gunsmiths and the limitations on private gun sales.
* Repeal the anti-gun ObamaCare law that threatens to use medical information to disqualify thousands of gun owners.
But if Democrats are able to use illegal voters to steal this election, Gun Owners have a massive job on their hands.
Under Clinton, our rights would be under their greatest assault ever.
Hillary Clinton's gun confiscation agenda includes:
* Gun control by Executive Order, on a scale that makes Barack Obama look like a novice. If fact, she's explicitly promised it.
* Banning private sales (because she favors Universal Background Registration Checks which ban private sales, unless buyers get government permission).
* Imposing a 25 percent National Gun Tax. As you remember, she went on the warpath for this in 1993 as First Lady. Not only would it make guns more expensive, it gives the feds a second set of paperwork to record your names, address, identity, and what guns you own.
* Appointing a radical Supreme Court to overturn the Heller decision. She has stated that she disagrees with Heller and that she will make that case every chance she gets. If Heller is overturned, the courts would no longer recognize the "individual right" to bear arms.
We only have a week left. And you can be sure that what happens on November 8 will have consequences for years to come.
Are you making sure that your pro-gun friends and family will be getting to the polls?
And have you viewed GOA's Voter Guide — which analyzes every congressional race in the country — and distributed it to friends, family members, and gun shops?
There's much to do, with only a little time remaining. Thank you for everything you can do to get pro-gun candidates elected next Tuesday.
Sincerely,
Larry Pratt
Executive Director Emeritus
P.S.  Elections have consequences. And this could be our last opportunity for decades to lay waste to the anti-gun agenda. So please view and distribute GOA's Voter Guide, analyzing every congressional race in the country. Make sure that you encourage every pro-gun voter you know to get to the polls. And please consider chipping in a minimal contribution to help GOA get this rating into as many hands as possible.
Featured GOA News & Updates