Gun Rights Advance This Week in the U.S. House
Written by Jordan Stein
Published: 15 September 2017
---
Not a GOA member yet?  Double your dollars, at no extra cost to you, when you join or contribute to Gun Owners of America today!
---
Suppressor Deregulation is on the Move in Congress
I've been on Capitol Hill this week, and I have some exciting news to bring you.
First, the GOA-backed Hearing Protection Act, which has been added to the sportsmen's bill (H.R. 3668), passed out of the Natural Resources committee and is headed to the House floor.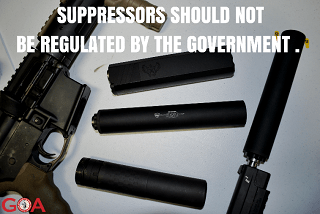 GOA thanks you and all our other activists who have taken action on this important legislation.
As you know, suppressors simply muffle the decibel level of a gunshot.
And it is GOA's position that these items should be protected by the Second Amendment — without infringement!
The Hearing Protection Act will deal a blow to the unconstitutional National Firearms Act, as gun owners will be able to purchase suppressors without paying a tax or being subjected to a waiting period.
GOA will keep pushing this legislation in Congress, and we'll keep you updated on its progress.
Buck Amendment Allows for Restoration of 2A Rights
Also this week, Colorado Rep. Ken Buck's amendment to restore Second Amendment rights to certain individuals has been successfully added to the spending package in the House (H.R. 3354).
This amendment would allow non-violent individuals to petition the ATF for the restoration of gun rights.
It's an important amendment, as nonviolent Americans shouldn't be punished for a decades-old mistake.
GOA has long supported this language, and most recently we rallied GOA activists to lobby Rep. John Culberson (R-TX) to allow such language in a spending bill, given that he holds an important position as a subcommittee chairman on the House appropriations committee.
Because of the Buck amendment, many decent Americans are now one step closer to having their gun rights restored.
Thank You for Your Activism!
As you can see, it's been a good week for gun rights on Capitol Hill. Rest assured, GOA is working to keep these and other pro-gun bills — like concealed carry reciprocity — moving in Congress.
And it's thanks to your activism that lawmakers are feeling the heat in favor of gun rights.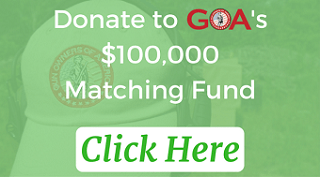 So thank you for your persistent support of our right to bear arms — we can't do it without you.
And that's why I'm hoping you could chip in $20, $30, or $50 to keep up the momentum.
Now is the best time to contribute to GOA because of a $100,000 matching fund that a very generous GOA Life Member has established.
That means every dollar donated to GOA is doubled. Even if you can only contribute a small amount to GOA, now it will go twice as far!
It's a very easy way to double your impact for gun rights and to keep pro-gun bills like the Hearing Protection Act moving.
Thanks for all your support!
In Liberty,
Jordan Stein
Director of Communications
Gun Owners of America
Follow me on Twitter: @jordankstein
PS: If you shop on Amazon, be sure you select Gun Owners Foundation through AmazonSmile. It's an easy way to support gun rights at no extra cost to you!
Featured GOA News & Updates