Montana doesn't need another Bernie Sanders
Written by Tim Macy
Published: 03 May 2017
Montana doesn't need another Bernie Sanders
Dear Friend,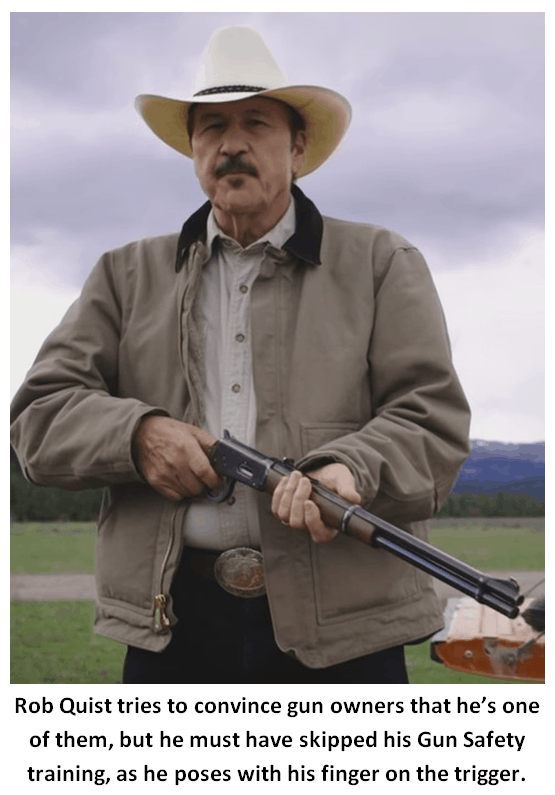 I thought you would be interested in this article by past NRA President David Keene about an anti-gun candidate running for Congress in Montana.
Rob Quist pretends to be pro-gun, but it's all an act. Putting a cowboy hat on Nancy Pelosi wouldn't make her pro-gun, either.
So check out the article below and see why Gun Owners of America, as well as the NRA and other gun groups, strongly oppose Rob Quist and support Greg Gianforte for Congress.
Sincerely,
Tim Macy
Chairman
---
Hiding his socialism beneath a cowboy hat  
By David Keene – The Washington Times – Tuesday, April 25, 2017
Fresh from special election defeats in Kansas and Georgia, Democratic professionals and activists alike are focusing on the election to fill Interior Secretary Ryan Zinke's Montana congressional seat as one more chance to chip away at the Republican majority in the House. Their candidate in Montana is a 69-year-old country singer enamored of Bernie Sanders and the left wing of the new Democratic Party who would, if elected, be welcomed with open arms by the Sanders-Elizabeth Warren wing of the party as another foot soldier in the quasi-socialist resistance.
To get to Washington, however, Rob Quist faces the formidable task of convincing Treasure State voters that he's more Montanan than socialist; that wearing a cowboy hat and riding the anti-Trump anger of fellow Democrats will get them to ignore his personal, professional and political record. Whether that will work remains to be seen, but even as he's worked to moderate his public statements on hot button issues, Bernie Sanders' "resistance" has dumped some $2 million into his campaign, and "progressive" contributors who helped raise $8 million in an attempt to win a special election in Georgia are doubling down in Montana. Mr. Quist will have all the money he'll need if he can get voters to buy what he's selling or, ignore what he's said in the past.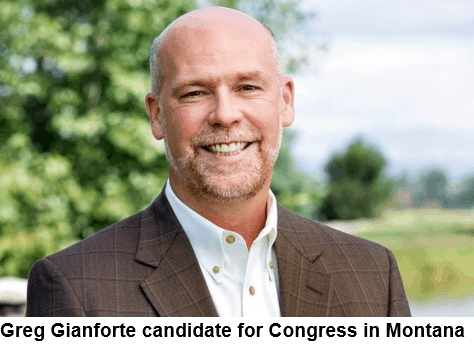 He's running against Greg Gianforte, a successful businessman who last year lost a close race for governor because, while living in Montana for 24 years, he must live with the misfortune of having been born in New Jersey. Mr. Gianforte is a decent man and as conservative as the typical Montana voter, but doesn't sport a Stetson or look like the sort of mustachioed guitar-strumming socialist one might find at a Bernie Sanders rally. On the other hand, Mr. Gianforte is personable, articulate, a strong gun rights supporter, opposes liberal abortion laws and wants, like most Montanans, to repeal and replace Obamacare as soon as possible.
Mr. Trump carried Montana by 20 points last November even as incumbent Democratic Gov. Steve Bullock edged out Mr. Gianforte to win re-election. Gun rights are always an issue in Montana, and Mr. Bullock managed to defuse the positions he had taken by simply lying about what he'd said and done. He falsely claimed credit for the state legislature's passage of pro-gun legislation and ducked and dodged when Mr. Gianforte drew attention to his veto of half a dozen other pro-Second Amendment measures that ended up on his desk. The issue hurt him, but it wasn't enough to derail his re-election.
Mr. Quist is betting that what worked for the governor might work for him. After being caught by the Gianforte campaign suggesting either a ban on or registration of semi-automatic firearms he and many progressives prefer to call "assault weapons," he reversed field and cut a television commercial during which he shouldered a rifle and shot out a television screen, declaring that he "won't stand by while a millionaire from New Jersey tries to attack my Montana values." Mr. Gianforte isn't letting him wiggle away, however, and is running ads in which he says, "Some folks just don't get it. Our Second Amendment rights are not up for negotiation."
The National Rifle Association and other gun rights groups have weighed in on Mr. Gianforte's side and while the race is about far more than the Second Amendment, Montanans don't generally take kindly to candidates who agree more with former President Obama and the leadership of a party dedicated to weakening or abolishing their rights. Mr. Quist will no doubt spend more between now and when voters go to the polls on May 25 and intends to stump the state with Mr. Sanders, his hero and biggest backer. But Mr. Gianforte has friends, too. President Trump was there last week after Donald Trump Jr. an avid sportsman and firearms enthusiast who spends a good deal of time hunting in Montana, campaigned for several days with Mr. Gianforte.
Montana Sen. Steve Daines summed up the problems facing Mr. Quist the other day in a tweet, which is apparently how politicians get their message out these days. "Rob Quist," tweeted the senator, "is FOR gun registration, FOR Bernie, FOR sanctuary cities, & FOR a single payer health system."
Democrats are betting that's a winning formula in Montana, but may face just another disappointment once the voters speak.
David A. Keene is editor at large at The Washington Times.
Featured GOA News & Updates