Omnibus Still Hung Up Over Guns
Written by Erich Pratt
Published: 21 March 2018

Click on the Take Action buttons to send your federal legislators a very important message on Fix NICS and the omnibus spending bill. (The pre-written letters are specifically tailored to Republicans and Democrats.) Talking points are also included below for one more round of calls to Representative.
---


Not a GOA member yet? We need you more than ever right now. You can join Gun Owners of America today for only $20!
---
URGENT: One More Round of Calls and Emails Needed!
Dear Friend:
I want to thank all of our members for taking action over the past couple of weeks.
Your calls and emails have been very effective.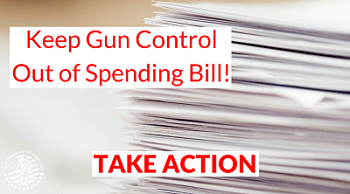 The voice of tens of thousands of GOA activists — all barraging the U.S. Capitol — has bolstered the fortitude of pro-gun congressmen to keep fighting on our behalf.
One news report noted that even while congressional leaders are seeking to put Fix NICS language into the omnibus, "it might cost them dozens of critical votes from GOP lawmakers who want language expanding reciprocity for concealed carry permit holders, which is not in the bill."
The fact is this: gun control doesn't belong on the government spending bill. And yet congressional leaders continue to keep pushing for it anyway.
I'm talking about House Speaker Paul Ryan and Senate Majority Leader Mitch McConnell — both of whom support John Cornyn's Fix NICS gun control bill.
The question of the day: Will gun control be added to the spending bill?
Thankfully, there are the rank-and-file congressmen who are listening to people like you.
Rep. Richard Hudson, who is the sponsor of the reciprocity bill in the House, reminded congressional leaders that, "A number of members signed a letter saying they wouldn't vote for any [gun bill] that didn't have concealed carry in it."
That's the gamble that anti-gun congressional leaders are facing.
If they attach gun control onto a spending bill, pro-gun congressmen may vote against the bill, and then the government will shut down.
I know, you and most GOA members could care less if that happens.
But that would be a huge embarrassment for the congressional leadership, since, arguably, that's one of their chief duties — to keep the lights on in Washington, D.C.
A vote for Fix NICS is a vote to kill Concealed Carry Reciprocity
Everyone on Capitol Hill realizes that if Fix NICS gun control passes on the government spending bill — without demanding concealed carry reciprocity — then reciprocity will be dead for the year.
Because, most likely, this will be the last "gun train" leaving the station this year.
That's why we can't let up on the phone calls and emails.
If we go quiet, then they think we've given up … or that we really don't care.
Take Action Today!
Right now, congressional offices are short-staffed because of the latest nor-Easter to hit the East Coast.
So if you call your Representative, you may only be able to leave a message.
You could also combine your phone message by sending an email.
Moreover, everyone can tailor their comments, depending on whether their congressman is Republican or Democrat.
This is the important message that all Republican Congressmen need to hear today:
1) Oppose all gun control (including Fix NICS). Tell your congressman that you want to see reciprocity passed instead.
2) Vote no on any spending bill that has gun control — and vote no on the "rule," as well.
3) Tell your congressman that you would rather see the government "shut down" (which actually only applies to "non-essential" employees), than see them support a spending bill that has gun control in it.
Democrat congressmen, who won't listen to gun rights arguments, can simply be told:
"Don't let the Republicans claim to have 'taken care of Parkland' by the cheap stunt of adding Fix NICS to the Omnibus — and blocking all other votes."
(After all, we really do want other gun votes — such as passing concealed carry reciprocity!)
Thank you very much for taking action again.
In Liberty,
Erich Pratt
Executive Director
Follow me on Twitter: @erichmpratt
P.S. GOA is expending a huge amount of its resources to rally more gun owners into this battle and to get our no-compromise voice out to the media. Please consider chipping in $10, $20 or $35 to put even more heat on legislators in Congress.
Featured GOA News & Updates