[Action Alert] In Secret, GOP Leaders Cram Gun Control into Spending Bill
Written by Erich Pratt
Published: 22 March 2018
You've been betrayed

UPDATE 2: This afternoon, the House passed the Omnibus spending bill by a vote of 256-167. The measure now goes to the Senate. Gun owners can call their senators at 202-224-3121 and urge them to support a filibuster and oppose the anti-gun omnibus bill.
UPDATE 1: At 10:52 this morning, the House of Representatives narrowly passed the "rule" on the Omnibus by a 211-207 vote.  (An "Aye" vote was a vote to support the anti-gun Fix NICS  language and can be viewed here.) The next order of business is an upcoming vote on the Omnibus spending bill itself — which will occur in a couple of hours. Gun owners should still make calls and can use the information provided below. The only difference is that now the request should be for Congressmen to vote against the anti-gun Omnibus bill.
(March 22, 8:45 am) — Please call your Representative at 202-224-3121 one last time to encourage a NO vote on the "rule." Given that the "rule" will prevent pro-gun amendments like concealed carry reciprocity, Republican Representatives need to hear that a vote for the rule is a vote to kill concealed carry reciprocity. (See below for Talking Points for Democrat congressmen.)
---


Not a GOA member yet? We need you more than ever right now!
---
Gun Owners Furious with GOP Leaders for Their Treacherous Lies
Dear friend,
In a secret meeting with only four participants, congressional leaders tacked gun control onto a massive government (Omnibus) funding bill.
This is not surprising, given that the four "deciders" were Chuck Schumer, Nancy Pelosi, Paul Ryan, and Mitch McConnell.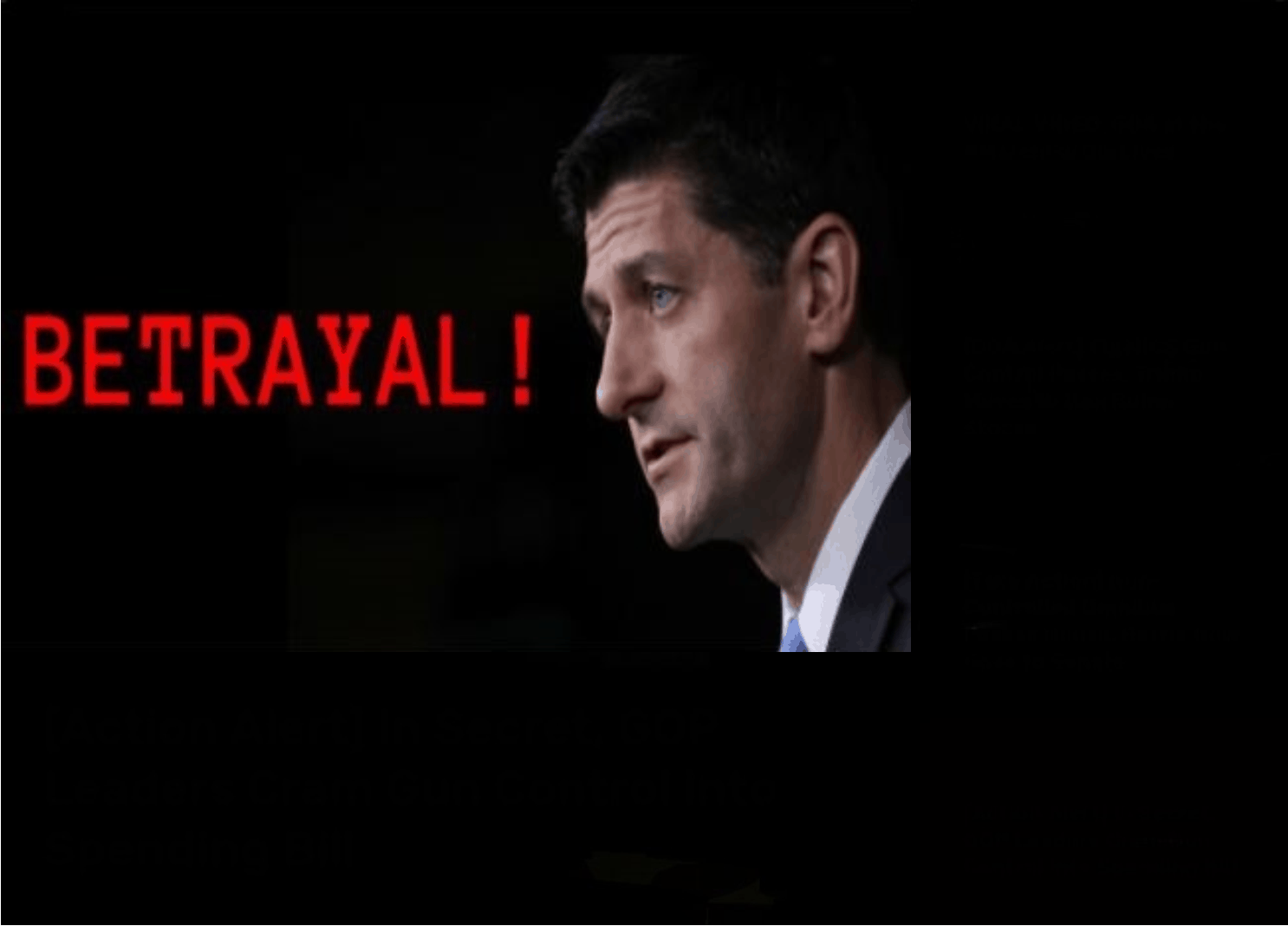 You may have thought, when America elected a "Republican" House and Senate, that Republicans, rather than Schumer and Pelosi, would be making the decisions.
If you did, you may have underestimated the cowardice, dishonesty, and underhandedness of Ryan and McConnell.
Earlier this year, the House leadership team guaranteed that the anti-gun Fix NICS bill would not move separately, without reciprocity added.
But that was a lie. And now many pro-gun congressmen are very upset, and they are rebuking the Republican leadership for their deception.
"What we were told by our leadership is directly opposite what is happening today," said Rep. Jim Jordan (R-OH).
Boy is that an understatement!
---

Get GOA's alerts delivered to your inbox. Sign up for GOA's free email alerts here.
---
Gun Control in the Omnibus
The bill now contains "Take the Guns First" (Fix NICS) language to send millions of additional names to the FBI background check system.
These will include many veterans and older seniors, plus those with outstanding traffic tickets and medical marijuana cards.
But then there's more.
The GOP's "school safety proposal," also buried in the more than 2,200 page bill, prohibits money from being used for guns and gun training.
So none of the Omnibus funds can be used to arm teachers — or school resource officers, such as the hero who stopped a shooting at a Maryland school this week.
TAKE ACTION: The battle is not yet over!
Despite all the bad news that I've just given you, the battle is not yet over.
Before the bill can disarm law-abiding Americans, it needs to pass the House and the Senate.
And, in the House, it can only come up after the House has approved the "rule" setting the terms of debate.
In particular, the rule will prohibit any amendment which would allow concealed carry reciprocity to be added.
So here's what we need:
1) Gun owners with Republican Representatives must CALL immediately and deliver this very important message:
A Vote for the "Rule" is a Vote to Kill Reciprocity.
And if you want to say more, tell Republicans that:
* A vote for the rule is a vote to restrict funds for training armed personnel in the schools; and that,
* You would support any effort to remove Paul Ryan from his position as Speaker.
2) Gun owners with Democrat Representatives must urge their congressmen to vote against the rule, as well.
Tell them that this way, they won't help Republicans claim victory over the Parkland "gun issue" while blocking all other gun votes.
(Again, we actually do want other gun votes — like getting reciprocity into the bill!)
So please call your Representative at 202-224-3121 and deliver the appropriate message above.
Thank you.
In Liberty,
Erich Pratt
Executive Director
PS: GOA has been digging deep into our resources to fight these nasty gun control measures. Would you consider pitching in $20, $35, or $50 to the fight?

Featured GOA News & Updates