New Hampshire Constitutional Carry Bill Coming to a Vote on Thursday!
Written by admin
Published: 10 February 2015
Earlier, we alerted you to SB 116, a "constitutional carry" bill that allows all law-abiding citizens in the state to carry as a matter of right — without having to submit to any obnoxious background checks or waiting periods.  
We are happy to report that the bill has passed out of committee and is coming to a vote on the Senate floor — as early as Thursday.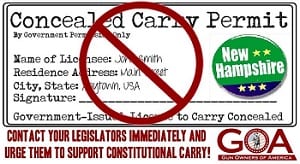 Here is how Senators voted in the Senate Judiciary Committee:
Senator Carson, voted YES
Senator Cataldo, Voted YES
Senator Daniels, voted YES
Senator Pierce, voted NO
Senator Lasky, ABSENT
Please urge your Senator to support this bill.  Let's make the Live Free or Die State the seventh constitutional carry state!  
ACTION:  
1. Please urge your state Senator to vote YES on SB 116, and to oppose any limiting amendments.  By clicking on the link here, your Senator will be automatically selected, and you can send a pre-written letter to him or her.
2. There are two key Senators who are reportedly "on the fence" and need EXTRA special attention.  They are Senators Jeff Woodburn (D-Berlin) and David Watters (D-Dover). Please contact them and urge them to support SB 116:
Senator Jeff Woodburn
(603) 271-3207
[email protected]
Senator David Watters
(603) 271-8631
[email protected]
Featured GOA News & Updates