Montana State House to Vote on Several Pro-gun Bills
Written by admin
Published: 10 February 2015
ACTION: Please urge your state Representative to support legislation that will increase protections for carrying concealed.  And if your Representative voted wrong on the Sheriff First bill, then please take him or her to the "woodshed."
Gun Legislation on the Docket this Wednesday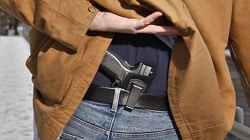 The Montana House of Representatives will be considering several pro-gun bills on Wednesday, including the following:
* HB 298 — Constitutional Carry. This bill will allow law-abiding citizens to carry concealed, without a permit, inside city limits — the same as it has been outside city limits in Montana for more than two decades.
* HB 371 — Concealed carry in restaurants.  This bill will allow individuals with CWPs to carry in several places that, up until now, have been prohibited places — including restaurants where alcohol is served (but not including genuine bars).
[There are several other bills on the docket too. If interested, you can check with the Montana Shooting Sports Association or email them at [email protected] to get on their email alert list.]
Finally, we regret to inform you that that Sheriff First bill (HB 274) was defeated by a 61-39 vote on Monday.  This bill would have allowed sheriffs to require federal officials operating in Montana to get advance written permission before making an arrest, search, or seizure.  
In addition to the Democrat opposition, the bill was opposed by several Republicans.  (See the list below.)
ACTION ITEMS:  
1. Please urge your state Representative to support HB 298 (constitutional carry) and HB 371 (repealing places where concealed carry is prohibited).  By clicking on the link here, your Representative will be automatically selected, and you can send a pre-written letter to him or her.
2. If your Representative is a Democrat or is one of the Republican Reps. listed below, then please cut-and-paste the following message below into the pre-written letter that is located here:
Finally, I am very disappointed that you opposed HB 274, the Sheriff First bill. We saw in places like Ruby Ridge and Waco how horribly wrong things can go when arrogant feds, operating outside their element, fail to properly use the expertise of local law enforcement officials with intimate knowledge of the circumstances. Given that the sheriff is the chief law-enforcement officer within the county, your vote flies in the face of the Constitution.
REPRESENTATIVES WHO VOTED WRONG ON SHERIFF FIRST.
All Democrats opposed HB 274 (the Sheriff First bill) and the following Republicans, as well:
Tom Berry
Christy Clark
Rob Cook
Geraldine Custer
Ron Ehli
Jeff Essman
Steve Fitzpatrick
Frank Garner
Edward Greef
Roy Hollandsworth
Mike Lang
Steve Lavin
Forrest Mandeville
Mike Miller
Doc Moore
Tom Richmond
Daniel Salomon
Ray Shaw
Kirk Wagoner
Jeffrey Welborn
Featured GOA News & Updates