Constitutional Carry Bills Advancing from Coast-to-Coast
Written by admin
Published: 10 February 2015
Constitutional Carry Bills Advancing from Coast-to-Coast
The concept of "constitutional carry" is simple:  An individual's ability to exercise his or her Second Amendment rights shouldn't depend on a "permit" from the government.
Currently, there are six states that allow permitless carry throughout all or most of their jurisdictions.
This week in New Hampshire, the full Senate will be taking up SB 116, a constitutional carry bill which previously passed out of the Senate Judiciary Committee by a 3-1 vote.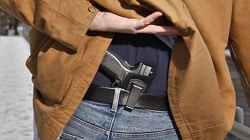 Also this week, the Montana House of Representatives will be taking up HB 298, a permitless carry bill that will allow law-abiding citizens to carry concealed, without a permit, inside city limits — the same as it has been outside city limits in Montana for more than two decades.
Featured GOA News & Updates