2nd Amendment sanctuary in Pa.: West Manheim Township passes ordinance
Written by Mariana Veloso and Teresa Boeckel, The Evening Sun
Published: 19 February 2020
The West Manheim Township Board of Supervisors passed a Second Amendment sanctuary ordinance Tuesday night.
The five-man board had four yes votes and one no vote by Supervisor Terry Rynearson.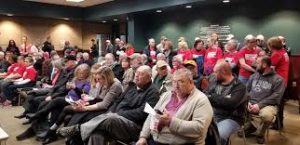 "I just thought there were parts that maybe were too far overreaching … needed to have more consideration," Rynearson said…
Many at the meeting expressed concerns of how this ordinance might attempt to change federal or state laws.
Chairman Jeremy Ault said that is not the case. "We made the right decision in regard to what the ordinance meant, to protect tax payer funds."
"We are not going to put our police officers lives at jeopardy enforcing a law that infringes on our constitutional rights," Ault said, noting how it would be dangerous for officers to try to retrieve guns from people.
The ordinance lists that the township will not use its money or personnel "in ways that are inconsistent with the Second Amendment to the constitution of the United States of America." …
The ordinance passed was based off of a model ordinance by Gun Owners of America.
"Obviously, we are pleased with the vote. The supervisors did the right thing standing up for the constitutional rights of the residents … (which may be infringed) by any laws passed in Harrisburg or D.C.," GOA Pennsylvania Director Val Finnell said.
GOA is also moving to have a similar ordinance passed for York County…
Read more at York Daily Record
Featured GOA News & Updates