Gun grabbers want to turn Virginia into New York
Written by Erich Pratt
Published: 11 June 2019
Gov. Northam is Proposing Sweeping New Gun Controls. Tell Richmond to "Just say NO!"
Urge your Senators and Delegates to reject Governor "Blackface" Northam's massive gun control agenda which will be voted on soon. And after you take action, make sure to share this article on Facebook or Twitter with just a couple of clicks!
Talk to Your Friends, Your Neighbors, Your Fellow Shooters; This is an All-Hands-on-Deck Fight!
Most certainly, you've heard that Governor Ralph Northam is using the Virginia Beach tragedy as an excuse to push a massive gun control agenda that will disarm the law-abiding and further enable criminals, madmen and other misfits.  
But that's only the half of it.  Keep reading to learn how House Speaker Kirk Cox may even be helping Governor Northam.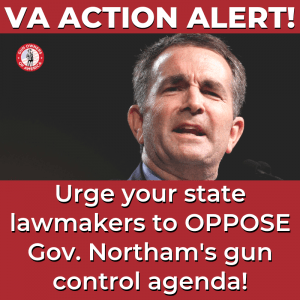 Governor Northam has called for a special legislative session to begin on July 9.  He wants to force the General Assembly to consider (and act on) his gun banning proposals.
We are facing some serious threats, because what the Governor is proposing is nothing short of a gun-controller's dream list.  
Here is what we have heard so far:
Bans on private sales, transfers, loans or gifts;

Bans on sound suppressors;

Bans on common semi-automatic firearms and magazines;

Gun Confiscation Orders known as "red flag" laws;

Repeal of preemption which will allow local gun bans; and

Reinstatement of the failed one-gun-a-month law.
Those proposals would shred the Second Amendment and turn many law-abiding Virginians into criminals.
Certain members of the legislature seem to be aware of this because only a few short months ago they rejected these ideas as radical left-wing anti-freedom measures that are far out of step with the views of mainstream Virginians.
Will Republicans stand up or cave?
We cannot expect the razor-thin Republican majority to save us from disaster without putting massive "heat" on them.  The Republican leadership needs to hear from you, otherwise they might not defend our rights.
I'm particularly concerned because the Richmond Times-Dispatch is reporting that House Speaker Kirk Cox may be showing signs of bowing to the governor by calling for alternative legislation that could serve as gun control "lite."
I'm talking about tougher penalties for firearms crimes (like mistakenly carrying a gun into a prohibited place or having a long gun loaded in your car in Fairfax County) and something about mental health (this could be an invasion of the doctor patient relationship — or, worse, back-door gun confiscation).
Speaker Cox seems to have the wrong idea and he needs to hear from you — today.
What will truly make Virginia safer is a Constitutional Carry law that will allow law-abiding Virginians to carry concealed self-defense guns without any sort of government-issued license.  
The General Assembly should also add civil penalties to our existing preemption law so that local officials who violate the law will face consequences.
Remind legislators that gun control loses elections!
You're no doubt aware that 2019 is an election year in our commonwealth.  
Now is a good time to remind Speaker Cox what happened to the Democrats in 1994, 2000, 2004 and 2016. When they ran on gun control — they lost.  
We need to remind Speaker Cox of this and make him understand that if he abandons his base, he will most likely lose his two-seat majority.
I'm convinced that we can stop Governor Northam's march towards New York-style gun control — but I need your help.
Here is what I need you to do right now:
1) Please use the contact form (above) to contact your Delegates AND your State Senators and ask — no demand — that they reject any new gun controls.  
Remind them that Gov. "Blackface" Northam is pursuing a gun control agenda that has its roots in racism, and urge them to instead consider real remedies like repealing gun-free zones and passing Constitutional Carry.
2) Then, contact Speaker Cox (below) and urge him to abandon his plans for gun control "lite" and, likewise, to push for Constitutional Carry and an end to all gun free zones.
Remind Speaker Cox that running on gun control (or gun control "lite") is a loser political issue.
Time is critical. Please take action today!
Featured GOA News & Updates