PA Senate Trying to Stall Legislation Strengthening Preemption
Written by Dr. Val Finnell, GOA Pennsylvania Director
Published: 12 June 2019
Urge your State Senator to Pass SB 531!

Urge your state senator to pass SB 531 to "Strengthen Preemption"!
SB 531 has Stalled in the Pennsylvania Senate
SB 531, Senator Wayne Langerholc's (R-35) bill to strengthen Pennsylvania's firearms preemption law, was reported from committee back in April but has since stalled on the Senate floor.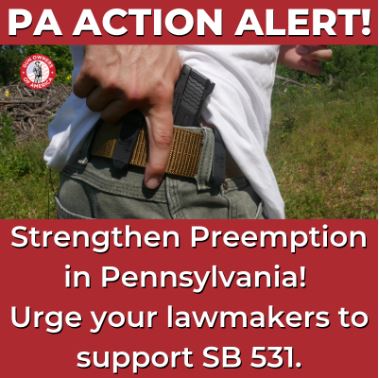 You see, the Senate does not want to vote because they are afraid Governor Tom Wolf (D) will veto the bill and they don't want to fight to override it.
This is unacceptable!
I need your help to force a vote on SB 531. Your state senator must stand up for what is right, regardless of the governor's actions. It is their duty to protect the right to keep and bear arms–and to check rogue municipalities and politicians like Pittsburgh Mayor Bill Peduto.
SB 531 provides law-abiding citizens the ability to recover damages, reasonable attorneys' fees, and costs if a court finds that a local ordinance violates the state firearms preemption law (Title 18 §6120).
SB 531 holds elected officials accountable for breaking the law and stops their financial "war of attrition" against law-abiding gun owners.
So please urge your state senator to pass the "Strengthen Preemption" bill—SB 531!
Featured GOA News & Updates