Trump explores executive action on guns
Written by Gabby Orr, Politico
Published: 05 August 2019
The president and his aides are seeking options to address gun violence that would circumvent Congress.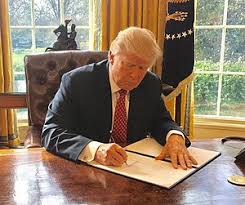 President Donald Trump is exploring ways to use regulatory power and executive action to curb gun violence after a pair of deadly shootings over the weekend — a move driven by his aides' belief that Congress is incapable of coalescing around consensus legislation in a heated 2020 election cycle.
White House officials on Monday said Trump and U.S. Attorney General Bill Barr are "resolved" to take action after the shootings in El Paso, Texas, and Dayton, Ohio. The administration is exploring solutions "that actually make an impact," as opposed to "things that feel good," one Trump aide said.
Trump has abandoned previous efforts to address gun violence in the wake of mass shootings, in addition to proposing solutions — such as arming school teachers — that a majority of congressional Democrats have already declared dead on arrival. It's a pattern that some Republicans said they expect the president to follow once more, as he grapples with using executive authority without upsetting influential groups like the NRA or jeopardizing his support among gun rights advocates who helped elect him in 2016…
"Any action will likely be executive instead of legislative," said one congressional aide, noting that Barr has long been a supporter of stricter gun laws.
Barr's track record of statements about gun control caused some gun rights groups to oppose his nomination for attorney general, arguing at the time of his Senate confirmation hearing that he backed confiscation orders and gave ambiguous responses when asked whether he would support a nationwide ban on semi-automatic firearms.
"He would be a disaster for the Second Amendment," Gun Owners of America, a pro-gun nonprofit, wrote weeks before Barr's confirmation vote in February.
Featured GOA News & Updates