Supreme Court declines to stop Trump administration's ban on bump stocks
Written by Mark Berman, The Washington Post
Published: 28 March 2019
The Supreme Court on Thursday declined to block the Trump administration's ban on bump stocks, devices that effectively speed up how quickly rifles can be fired.
Groups supporting gun owners and opposing firearms restrictions have sharply criticized the bump stock ban and challenged it in court, including filing two petitions seeking to delay the ban from taking effect — which it did earlier this week.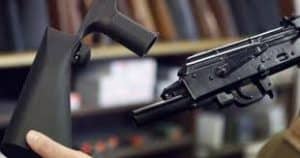 Chief Justice John G. Roberts Jr. on Tuesday denied one such request, while Justice Sonia M. Sotomayor had asked for more filings in response to another. She referred that stay request to the full court, and Thursday the justices denied the petition. There were no noted dissents released by the court…
Gun Owners of America, one of the groups that had asked Sotomayor to delay the ban until they can appeal a lower-court ruling, argued that the case had a broader meaning, saying that preventing the bump stock ban could keep "a future anti-gun president" from seeking to ban other firearms.
The Supreme Court's decision Thursday does not end the legal fight but means that the ban will remain in effect while challenges continue. Michael Hammond, legislative counsel for Gun Owners of America, said in a statement that the group was "disappointed" and pledged that it would "continue to fight the issue in the court system, as the case now returns to the lower courts."
Hammond also said the group predicted "that a large majority of the 500,000 bump stock owners will refuse to turn in their property in what they view as an illegal, unconstitutional gun grab."
Featured GOA News & Updates