Time to Ban Gun Free 'Killing' Zones!
Written by Michael Hammond
Published: 12 March 2018
Please consider attending the public hearing on Tuesday, March 13 (at 10 am) in Representatives Hall in the New Hampshire State House to oppose gun control. And ask your legislator to oppose the Hennessey gun ban amendment.
---
Not a GOA member yet? We need you more than ever right now. You can join Gun Owners of America today for only $20!
---
State Senator Using FL Shooting to Impose Gun Control
Dear Friend:
On March 13, at 10 AM in Representatives Hall in the New Hampshire State House, the Senate Education Committee will hold a public hearing on an amendment sponsored by Senator Martha Hennessey that will allow local school boards to ban guns on school property.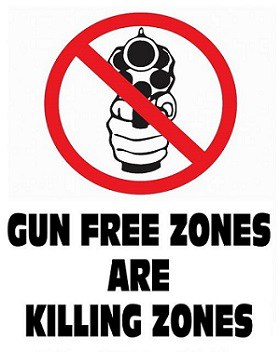 The address for Representatives Hall is 107 No. Main St., Concord, NH.
Our local partners at the New Hampshire Firearms Coalition have called this gun and self defense ban an emergency and are asking all gun owners to attend the public hearing and sign in as being opposed to the amendment.
Senator Hennessey is using last month's murders in Florida as an excuse to ban guns. What really happened was a failure by law enforcement to even investigate early warnings about the murderer. Then, when he actually carried out his dastardly deed, several deputy sheriffs hid outside and did not engage the murderer and innocent lives were lost.
The real truth is that Florida has a complete ban on carrying guns in schools by anyone other than police officers. No one was able to fight back because the legislature said so. We cannot allow this to happen in New Hampshire.
We don't need gun control in New Hampshire, we need to continue to allow legally-armed adults to carry guns. That is a powerful deterrent. The good news is that even though enhanced statewide preemption was defeated last month, local school boards and boards of selectmen are finally admitting that they simply do not have the authority to ban guns.
This is why Senator Hennessey is pushing her gun ban amendment onto SB 357, which is not even a firearms bill.
New Hampshire has never banned the carry of guns in schools and now is not the time to start.
Time and time again, we have seen that gun free zones cost lives. Here are some recent mass murders that occurred in presumably gun free zones:
* Marjory Stoneman Douglas High School, Parkland Florida – 17 murdered because the state of Florida prohibits possession of a firearm by anyone other than law enforcement in a school. Coach Aaron Feis was murdered shielding students from gun fire. If gun possession was not banned Coach Feis was the type of person who may have carried a concealed gun. Sadly, the state of Florida did not give him that choice.
* First Baptist Church, Sutherland Springs, Texas – 26 were murdered in a church where no one (except the killer) was armed. But the murderer was stopped by a neighbor who was armed with an AR 15 type rifle and who is also an NRA Certified Instructor.
* Pulse Nightclub, Orlando, Florida – 49 people were murdered because the state of Florida bans the carrying of guns at anyplace where the primary business is the sale of alcohol for consumption. Pulse was primarily a bar, not a restaurant so guns were banned and no one was able to offer armed resistance to the murderer.
I think you get the idea that gun free zones cost lives and legally armed citizens save lives. Does anyone really believe that someone who plans to commit murder will be deterred by a gun free zone?
Again, please plan to attend the public hearing on March 13 (10 AM). We have been told that the anti-gun left is trying to fill the hearing room and we need a strong showing of opposition to the Hennessey gun and self-defense ban.
And then, given that this bill may go to the full Senate very soon, please urge your legislator to oppose the anti-gun Hennessey amendment to SB 357.
Thank you.
Sincerely,
Michael Hammond
Legislative Counsel
P.S. GOA is fighting hard against gun control in Washington and in New Hampshire. Please consider chipping in $10, $20 or $35 to put even more heat on legislators in Congress.
Featured GOA News & Updates