House Republican Leadership Considers Killing Constitutional Concealed Carry Reciprocity
Written by Erich Pratt
Published: 12 March 2018
Is this the end of concealed carry reciprocity?
Call your Representative at 202-224-3121 and demand a "nay" vote on any Omnibus spending bill which contains Fix NICS gun control. Politely explain that a vote for Fix NICS is a vote to kill concealed carry reciprocity!
---

Not a GOA member yet? We need you more than ever right now. You can join Gun Owners of America today for only $20!
---
 Time to Burn up the Capitol Phone Lines!
Dear Friend:
Concealed carry reciprocity may be dead — forever — if some in the House and Senate Republican leadership have their way.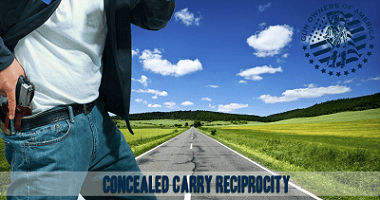 That's why I need you to call your Representative immediately.
It is imperative that thousands upon thousands of gun owners call to explain that a vote for Fix NICS gun control is a vote to kill Constitutional Carry reciprocity!
Let me explain what's happening on Capitol Hill.
Will House Leaders stab gun owners in the back?
Two months ago, the House reported out a "combo-bill" containing concealed carry reciprocity and the anti-gun Cornyn-Schumer-Feinstein bill, known as "Fix NICS."
This was H.R. 38.
We were pretty sure at the time — given Schumer's white-hot hatred for guns and gun owners — that he would kill his own Fix NICS bill, rather than accept a single word of pro-gun language.
True to form, Senator Schumer and other virulently anti-gun Democrats declared that H.R. 38 was DOA in the Senate, as they would not swallow the concealed carry reciprocity part of the bill.
Moreover, the House leadership promised Republican members and us that they wouldn't allow Fix NICS to come up in the House again without concealed carry reciprocity attached.
At this point, it appeared that the anti-gun Fix NICS was on its death bed.
By the way, Fix NICS really is a "take the guns first, go through due process second" type of approach — just as the President recently stated.
To see how Fix NICS would result in massive gun bans — for military veterans, seniors, people with outstanding traffic tickets or medical marijuana cards, etc. — go here.
---
Up the Pressure on Congress and POTUS!
Get pre-written postcards
that are sent to all GOA members:

---
House Leaders discuss adding gun control to spending bill

Sadly, because of the post-Parkland pressure by the anti-gun Left to "do something," it now appears that the House Republican leadership may be considering going back on their word.
They would consider "Fix NICS" (aka, Take the Guns First) language on the Omnibus bill, which is a must-pass government spending bill.
But doing this would kill concealed carry reciprocity for the year.
Not only that, the House leadership's promise that Fix NICS would NOT be considered separately from concealed carry reciprocity would be proved to be a bald-faced lie.
What happens here will affect the future of concealed carry reciprocity.
Because if Republicans become "the party that finally delivered on gun control," this would lead to an electoral bloodbath in November that would make it unlikely that reciprocity could pass in the near future.
So please call your Representative immediately and demand a no vote on any Omnibus spending bill which contains Fix NICS (aka, Take the Guns First) gun control.
Explain that a vote for the anti-gun Fix NICS provision is a vote to kill concealed carry reciprocity.
Vote "Against the Rule" if Fix NICS is attached!
I need you to do one more thing while you have your congressional office on the phone.
Please urge your Representative to vote "against the rule" if the House takes up a bill that contains Fix NICS.
Before any bill is voted on, the House will always first vote for a "rule" which governs how debate on the bill will proceed.
The "rule" determines whether there will be amendments, how many amendments, etc.
Since the Republicans are in the majority, they always vote "aye" on the rule and the Democrats vote "nay" in unison.
So if there are enough Republicans who will break from the Party and vote "nay" on the rule, it would then defeat the bill — forcing the Republican leadership to drop the gun control provisions in order to win back the defecting Republicans.
So again, I'm urging you to ask two things from Representative:
1) Vote no on the final passage of the Omnibus spending bill if it contains the anti-gun Fix NICS provision. Explain that you want concealed carry reciprocity instead — and that a vote for Fix NICS is actually a vote to kill reciprocity.
2) Vote "against the rule" if the omnibus contains the anti-gun Fix NICS (Take the Guns First) provisions.
Please call your Representative at 202-224-3121 now.
Thank you so much for your activism!
In Liberty,
Erich Pratt
Executive Director
Follow me on Twitter: @erichmpratt
P.S. GOA is expending a huge amount of its resources to rally more gun owners into this battle and to get our no-compromise voice out to the media. Please consider chipping in $10, $20 or $35 to put even more heat on legislators in Congress.

Featured GOA News & Updates