Rand Paul Pushes for Gun Rights in Health Bill
Written by Quinn Hillyer
Published: 14 July 2017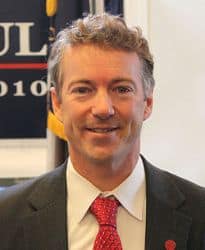 ""There is nothing to prevent the national health database for being trolled for PTSD, ADHD, and Alzheimer's. (This means, of course, that many seniors could forget about passing on their guns as an inheritance to their children and grandchildren.)"
---
Rand Paul Pushes for Gun Rights in Health Bill
Even if U.S. Sen. Rand Paul, the libertarian Republican from Kentucky, is against the Senate's latest version of health care reform, he is working to make the bill better from a conservative perspective in case it passes anyway.
So says the group called Gun Owners of America (GOA), which released a blast e-mail on Thursday praising Paul's pledge to introduce to the health bill three amendments to protect gun owners' rights.
It might seem that health-insurance rules would have nothing to do with gun rights – but that is not the case. Liberals long have pronounced gun violence, and by extension mere gun ownership, as a "health-care issue," and have gathered and used gun-possession information to confiscate firearms.
As GOA said in its e-mail, "Just ask the 257,000 law-abiding vets who have lost their guns because they went to the VA for treatment."
Enter Sen. Paul. According to GOA, Paul has promised to introduce an amendment to the health care bill to meet three GOA priorities:
1) Insurers cannot ask about gun ownership, or feed that information into a federal database, or discriminate or deny insurance to gun owners;
2) Federal mandates, that doctors keep digital records in a federal health database, cannot be used to force doctors to compile a federal health database; and,
3) The ATF must not be allowed to troll the federal health database for names that it could submit to the [National Instant Criminal-Background Check System] list.
According to GOA, even liberal Democratic leader Harry Reid "took care of the first and second problems" in Obamacare in 2009 with a simple manager's amendment that would require only a "small technical correction" to the current bill to duplicate.
Click here to see more GOA News articles like this one.
One reason this is important, according to GOA: "There is nothing to prevent the national health database for being trolled for PTSD, ADHD, and Alzheimer's. (This means, of course, that many seniors could forget about passing on their guns as an inheritance to their children and grandchildren.)"
And, according to GOA, Paul has promised to offer such an amendment.
One potential hurdle for the amendment is that under the procedure known as "reconciliation," which the Senate is using to try to pass the bill, no provision can be included in the bill unless it has a measurable budgetary effect. It is not clear whether that rule would be a hurdle to an amendment that merely, in effect, applies to the new law (if it passes) what already applies to existing law.
It also possible is that the wording of Paul's amendment – specifically prohibiting "funds" from being used for national database purposes – would effectively be seen as meeting the Senate rule's insistence that amendments be budgetary in nature. GOA says that by prohibiting the spending of money (that may or may not otherwise be spent), the amendment would meet the Senate's rules.
Liberty Headlines attempted both by phone and email to get a comment from Paul or his spokesmen, to no avail. His office has yet to issue a press release on the proposed amendment.
Other gun-rights groups, such as the National Rifle Association, have not publicly weighed in on this issue, leaving it to GOA. It was GOA which successfully pushed for Sen. Reid's amendment – one of the few conservative things Reid did in years – back in 2009.
Featured GOA News & Updates