New Liberty Campus Carry Policy Go Into Effect This Semester
Written by Autumn Price
Published: 30 August 2016
New Liberty Campus Carry Policy Go Into Effect This Semester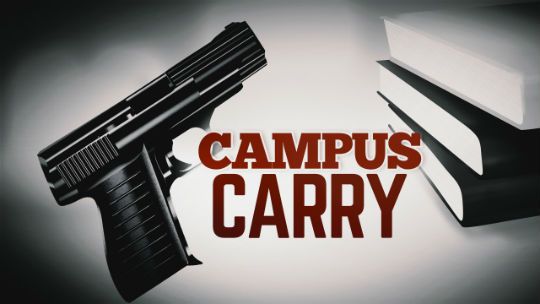 "…I can sleep soundly knowing that I can protect myself at all times. Evil doers are known to attack gun free zones, but now students can protect themselves at all times." – Jordan Stein
Read at Refined Right
Liberty University's updated concealed carry will go into effect this fall, and many students are already feeling safer because of it.
The new policy, which will allow students that meet both legal and Liberty University requirements to keep their concealed carry firearms in their dorm room, will thoroughly eliminate gun free zones on campus. A student who receives approval from the Liberty University Police Department (LUPD) and installs a safe, will, upon the completion of a safe installation form, be allowed to carry on campus and in dorms with a valid concealed carry license.
The student must store the firearm in a safe approved and installed by LUPD, while also having written permission to carry the weapon inside of a residence hall. The carrying student must also obtain their roommate's consent before having the safe installed in their shared dorm room. Before a concealed carrying student leaves their room, the approved weapon must be immediately put into concealment once it is removed from the safe. Approved weapons may also be stored inside of a secure storage container within the carrier's vehicle.
Beyond these basic rules, there are also notable restrictions to the new policy. Valid concealed carry holders cannot conceal carry on campus and in dorms without written permission from the LUPD. A student cannot open carry on campus or in the residence halls, nor can they bring their own safe to store their firearm in. Only the approved student and LUPD officers are allowed to access the safe. Finally, approved conceal carrying student cannot clean, service, or openly display their firearm inside the residence halls.
Students at Liberty for Gun Rights (SL4GR), approves of the new policy. The club posted a blog post detailing the provisions of the new policy, adding that LU's new policy will make the campus safer. "Students at Liberty for Gun Rights (SL4GR) supports the abolition of gun free zones and believe students that meet the legal and Liberty University requirements should be able to keep their conceal carry firearm in their dorm room."
Jordan Stein, a gun rights activist at LU, gave Refined Right the following statement:
"I can sleep soundly knowing that I can protect myself at all times. Evil doers are known to attack gun free zones, but now students can protect themselves at all times."
Liberty's campus weapons policy previously granted concealed-carry rights only to visitors and approved faculty members on campus, while allowing eligible students to carry concealed in other campus locations.
The new policy was adopted after students and faculty members within the school felt that the campus would be much safer with the campus carry law.
Liberty University is largely open to the public, and there was concern expressed over how the school would be able to protect the ever-growing student body. The first change to the policy came in 2011, president Jerry Falwell Jr. said, after the mass shooting at Virginia Tech in 2007. In December 2015, Falwell announced that he would be asking the board of trustees to consider allowing licensed students to have guns in their dormitories.
"Since Liberty implemented its gun policy several years ago," Falwell told Refined Right, "it has worked well and I am glad Liberty led the way among universities to provide students, faculty and staff the ability to protect themselves from attackers like the one who struck at Virginia Tech in 2007.  Hundreds of universities have followed suit and I believe innocent lives will be saved as a result."
This announcement came a week after the mass shooting in San Bernardino, California. Falwell then encouraged to consider taking a campus-concealed carry class. The university's board passed the resolution this past April, allowing the proposed change to the policy to take effect this fall.
Currently, all 50 states allow citizens to carry concealed weapons if they meet state requirements. Eighteen states currently ban the carrying of a concealed weapon on campus: California, Florida, Georgia, Illinois, Louisiana, Massachusetts, Michigan, Missouri, Nebraska, Nevada, New Jersey, New Mexico, New York, North Carolina, North Dakota, Ohio, South Carolina and Wyoming.
Twenty-three states currently leave the decision to ban or allow concealed carry weapons on campuses to be made by each college or university individually: Alabama, Alaska, Arizona, Arkansas, Connecticut, Delaware, Hawaii, Indiana, Iowa, Kentucky, Maine, Maryland, Minnesota, Montana, New Hampshire, Oklahoma, Pennsylvania, Rhode Island, South Dakota, Vermont, Virginia, Washington and West Virginia
Meanwhile, eight states allow the carrying of concealed weapons on public postsecondary campuses: Colorado, Idaho, Kansas, Mississippi, Oregon, Texas, Utah and Wisconsin. Arkansas and Tennessee only allow certain faculty members to carry on campus if they meet state requirements. Utah is the only state in the nation to have a statute declaring all public college and universities as public entities, which do not have the authority to ban concealed carry on campus. All ten of the public institutions in Utah allow concealed weapons on campus.
The newest policy was approved by President Falwell on August 22.
Ed. Note:  Jordan Stein is the Public Relations Coordinator for Gun Owners of America.
Featured GOA News & Updates