GOA Endorses Senator Eric Schmitt
Written by Tim Macy
Published: 30 August 2016
GUN OWNERS OF AMERICA ENDORSES SENATOR ERIC SCHMITT FOR MISSOURI STATE TREASURER
Gun Owners of America is proud to endorse State Senator Eric Schmitt for Missouri State Treasurer.  Eric is a sixth-generation Missourian who has spent his life in support of the Second Amendment.  
As a State Senator, Eric Schmitt played a lead role in passing legislation to remove burdensome impediments to citizens' right to carry firearms, both concealed and openly. The bill also bolsters the 'stand your ground' law by allowing individuals to defend themselves wherever they are.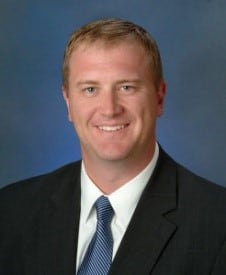 This fundamental right of being able to defend yourself and your family should not be impeded by government, and Senator Schmitt steadfastly supported this update to the law.
Unfortunately, this legislation was vetoed by the Governor, but will likely be taken up for an override at the legislature's annual veto session in September.
Eric Schmitt was also a strong supporter of SJR 36, which was passed by the legislature and submitted to the people of Missouri in 2014. The measure solidifies that the right to keep and bear arms is an unalienable right. The Voters of Missouri voters overwhelmingly supported this measure.
Eric also voted in support of:
SB 489 in 2012, which grandfathered in concealed carry permit holders who had already gone through training not to be burdened with additional training.
    HB 533 in 2013, which allows state employees to keep firearms locked and concealed in their vehicles while at work.
    SB 75 in 2013, which the state prohibits from establishing a database that maintains information about citizens' firearm ownership.
    SB 656 in 2014, which precludes health professionals from asking patients about their firearm ownership.
    Plus, Eric Schmitt answered the Gun Owners of America Questionnaire 100% in favor of your gun rights, giving him and "A+" rating from GOA.
If you believe, as we do, that all your constitutionally guaranteed rights are precious to freedom and liberty, then I urge you to vote for Eric Schmitt for Missouri State Treasurer.
You can also help Eric by going to his website and donate to his campaign and volunteer at XXXXXXXXX.com.
Sincerely,
Tim Macy
Chairman
Gun Owners of America
Featured GOA News & Updates