No, there haven't been 18 school shootings in 2018. That number is flat wrong.
Written by John Woodrow Cox and Steven Rich, The Washington Post
Published: 15 February 2018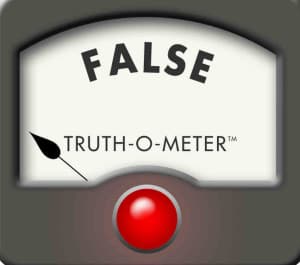 The stunning number swept across the Internet within minutes of the news Wednesday that, yet again, another young man with another semiautomatic rifle had rampaged through a school, this time at Marjory Stoneman Douglas High in South Florida.
The figure originated with Everytown for Gun Safety, a nonprofit group, co-founded by Michael Bloomberg, that works to prevent gun violence and is most famous for its running tally of school shootings.
"This," the organization tweeted at 4:22 p.m. Wednesday, "is the 18th school shooting in the U.S. in 2018."
A tweet by Sen. Bernie Sanders (I-Vt.) including the claim had been liked more than 45,000 times by Thursday evening, and one from political analyst Jeff Greenfield had cracked 126,000. New York City Mayor Bill de Blasio tweeted it, too, as did performers Cher and Alexander William and actors Misha Collins and Albert Brooks. News organizations — including MSNBC, ABC News, NBC News, CBS News, Time, MSN, the BBC, the New York Daily News and HuffPost — also used the number in their coverage. By Wednesday night, the top suggested search after typing "18" into Google was "18 school shootings in 2018."
It is a horrifying statistic. And it is wrong.
Click here to see more 2A articles like this one.
Everytown has long inflated its total by including incidents of gunfire that are not really school shootings. Take, for example, what it counted as the year's first: On the afternoon of Jan. 3, a 31-year-old man who had parked outside a Michigan elementary school called police to say he was armed and suicidal. Several hours later, he killed himself. The school, however, had been closed for seven months. There were no teachers. There were no students.
Also listed on the organization's site is an incident from Jan. 20, when at 1 a.m. a man was shot at a sorority event on the campus of Wake Forest University. A week later, as a basketball game was being played at a Michigan high school, someone fired several rounds from a gun in the parking lot. No one was injured, and it was past 8 p.m., well after classes had ended for the day, but Everytown still labeled it a school shooting….
After The Washington Post published this report, Everytown removed the Jan. 3 suicide outside the closed Michigan school.
The figures matter because gun-control activists use them as evidence in their fight for bans on assault weapons, stricter background checks and other legislation. Gun rights groups seize on the faults in the data to undermine those arguments and, similarly, present skewed figures of their own….
"Since 2013," the organization says on its website, "there have been nearly 300 school shootings in America — an average of about one a week."
But since Everytown began its tracking, it has included these dubious examples — in August 2013, a man shot on a Tennessee high school's property at 2 a.m.; in December 2014, a man shot in his car late one night and discovered the next day in a Pennsylvania elementary school's parking lot; in August 2015, a man who climbed atop the roof of an empty Texas school on a Sunday morning and fired sporadically; in January 2016, a man in an Indiana high school parking lot whose gun accidentally went off in his glove box, before any students had arrived on campus; in December 2017, two teens in Washington state who shot up a high school just before midnight on New Year's Eve, when the building was otherwise empty.
In 2015, The Post's Fact Checker awarded the group's figures — invoked by Sen. Chris Murphy (D-Conn.) — four Pinocchios for misleading methodology….
Yet many journalists rely on Everytown's data. Post media critic Erik Wemple included the 18 figure in a column Wednesday night, and Michael Barbaro, host of the New York Times' podcast "The Daily," used the number to punctuate the end of his Thursday show.
Read More at The Washington Post