New Hampshire: Oppose Red Flag Gun Grabs!
Written by Michael Hammond
Published: 04 March 2019
HB 687 is Dangerous for Gun Owners

Take Action below to urge your State Representative to OPPOSE Red Flag Gun Grabs!
Urge your State Lawmakers to OPPOSE Red Flag Gun Grabs
Even by billionaire mogul Michael Bloomberg standards, House Bill 687 is over-the-top.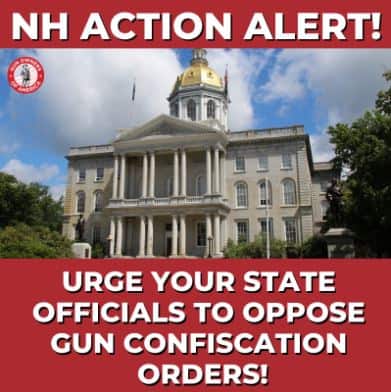 This bill allows the police or a relative to convene a "secret court" (ex parte proceeding) to strip you of your constitutional rights with no hearing whatsoever.
Who can bring the action?  Well, "family or household member" includes anyone related to you by "consanguinity."
"Consanguinity" is defined by the American Heritage dictionary to mean "relationship by blood or by a common ancestor."  Webster's (1828 edition) defines it as the "relation of persons by blood."
So, given that Elizabeth Warren is distantly related to Indians, any of them could request a Gun Confiscation Order.
Under section 159-E:4, the distant relative can request a "secret court" — from which the gun owner is barred. 
Upon the flimsy showing that there is "reasonable cause" to believe the person is a risk, the court will issue an order to strip the gun owner of his Second, Fourth, Fifth, and Fourteenth Amendment rights. 
But the "standard" doesn't make a whole lot of difference.  When the accuser is the only one in the room, a judge will normally agree to sign any kind of order.
But it's even worse:  a Gun Confiscation Order doesn't even require the relative to go to court.  It can be done by a telephone call.
The first thing the gun owner learns of the order is when the police knock on his door in the middle of the night — as they customarily do — ready to ransack his house and, if he resists, to arrest or shoot him.
Think this is fanciful?  In Ferndale, Maryland, 60-year-old Gary Willis answered a knock on his door at 5:17 a.m. with, understandably, a gun in his hand.  When the police tried to grab Willis' gun, a struggle ensued.  And the police shot him to death.
Theoretically, a gun owner can spend $10,000-$20,000 of his own money and hire a lawyer to try to convince the judge that he made a mistake. But this is seldom successful.
So what do the anti-gunners say about their support for this unconstitutional piece of garbage?
Representative Peter Petrigno of Milford simply says "…the regulation of firearms is Constitutional."
Paul Dargie, also of Milford, says there are "sufficient controls … in the bill to balance an individual's right to bear arms with the public benefit of avoiding potential gun violence."  Given that the gun owner is not entitled to any hearing before police show up at his door to seize his guns, it is hard to imagine what Dargie would view as "insufficient controls."
But we understand where most of the Democrats are coming from. They don't like guns.  They will, ultimately, do whatever is necessary to advance their ultimate goal of ending private ownership of firearms. And the Constitution be damned!
But while we are hopeful that the governor will oppose this anti-gun piece of garbage, gun owners in the Granite State need to be vocal to him to show opposition. Our goal is to encourage him to veto, while minimizing the number of votes for House Bill 687 in the General Court.
So please take action!  Urge your state representative to oppose HB 687 in committee and on the floor, and Governor Sununu to veto Gun Confiscation Orders, House Bill 687, should it arrive on this desk. 
And you contact your state representative above and the governor below!


Featured GOA News & Updates