NE: It's Time to Gather in Lincoln to Advance Permitless Carry!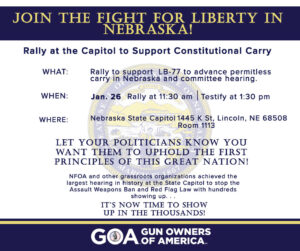 Gun Owners Need to Show Up in Mass to Pass Permitless Carry in Nebraska 
Last week, Nebraska State Senator Tom Brewer (R-43) received 25 co-sponsors for Permitless Carry, LB 77. Thanks for your help!
Now, LB 77 faces its next hurdle in the Senate Judiciary Committee and that's where I need your help again.
It is imperative that GOA members attend the rally and Senate Judiciary Committee hearing in mass on the 26th of January. The rally begins at 11:30 AM and the hearing follows at 1:30 PM in Room 1113. Let's show up in large numbers to show our support for Nebraska permitless carry! 
If you would like to testify, please limit your comments to five minutes.
For those seeking to gain public testimony assistance, there will be a legislative workshop on Monday, January 23rd from 5 PM to 8 PM at 88 Tactical, located at 15350 Shepard Street, Omaha NE, 68138.
If you wish to testify, you can find the instructions here.
Now is the time to ramp up the pressure by turning out in large numbers for the committee hearing on the 26th of January!
Featured GOA News & Updates