Biden's New Budget Proposal, the Build Back Better Act, Contains Gun Control
Written by Aidan Johnston
Published: 04 November 2021
We need you to demand Congress oppose the gun control contained in the latest budget proposal. 
Gun Owners of America has been monitoring the appropriations process for you in Washington D.C. since President Biden took office—as we do every year.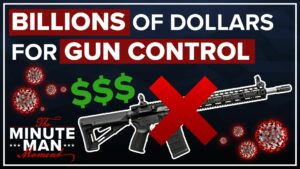 GOA found gun licensing, "red flag" gun confiscation orders, and gun buybacks in Speaker Pelosi's first appropriation bills, H.R. 4502 and H.R. 4505.
When Pelosi failed to pass those bills—Biden and Pelosi changed tactics, undertaking their controversial $3.5 trillion budget reconciliation proposal. 
That's where GOA found highly suspect Community Violence Intervention (CVI) funding—which we raised as an issue. 
GOA highlighted evidence that CVI funds had been misused to fund gun control in big cities, which is why we told Congress: 
Until the Biden Administration can prove that Community Violence Intervention funding is not misused to fund gun control and is only used for honest police work, gun owners must oppose these anti-gun slush funds. 
We gave anti-gunners their chance… and they blew it! 
During the House Judiciary Committee markup of the budget reconciliation proposal, pro-gun Representative Thomas Massie (R-KY) offered a simple amendment which would have clarified that the funds could not be used: 
"in any manner that results in the denial, without due process, of an individual's exercise of any right under the Second Amendment to the Constitution." 
But anti-gunners on the committee only doubled down on their desire to violate our constitutional rights.  
Democrats on the House Judiciary Committee voted 25-18 against this simple amendment guaranteeing the constitutional rights of the people would be respected. 
Now the text of H.R. 5376, the Build Back Better Act, includes $5 billion in funding for these anti-gun initiatives.  
These are the initiatives that anti-gunners voted to keep in the bill—the very programs that can be used to deny the individual exercise of the Second Amendment without due process. 
The Biden Administration clearly intends to misuse CVI funding from H.R. 5376 to infringe on the right of the people to keep and bear arms—just as they have already done with the American Rescue Plan CVI funding. 
We've read thousands of pages of legislation and found the gun control. 
Now it's your turn to act. 
We need all gun owners to email Congress right away, and let your Senators and Representative know that you are opposed to H.R. 5376 and the gun control contained within the Build Back Better Act.  
Tell them that you'll be watching how they vote, and you'll remember on November 2, 2022! 
Featured GOA News & Updates