Mississippi Senate Votes on Constitutional Carry. The Results Have Anti-Gunners Furious
Written by Reagan Wilson
Published: 30 March 2016
Anti-gun groups who have been campaigning in Mississippi against HB 786, aka the "Mississippi Church Protection Act," are furious today after the state senate held a vote on the bill.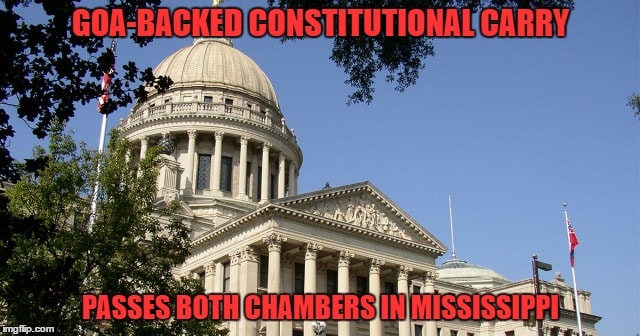 The bill, which would allow for armed security in places of worship, all concealed carry without a permit (constitutional carry), and seeks to nullify some federal gun laws was passed by a vote of 36-14.
The bill is an amended version of the original so must now go back to the House for another vote.  [Ed. note:  The constitutional carry provision already passed the House once, on February 17.]
According to the local Clarion Ledger:
The bill would allow churches to create security programs and designate and train members to carry concealed weapons. It would provide criminal and legal protections to those serving as church security.
The bill also would allow concealed carry in a holster without a permit in Mississippi, expanding a measure passed last year that allowed concealed carry without a permit in a purse, satchel or briefcase, and another recent law that allows open carry in public.
The bill also seeks to prohibit Mississippi officials from enforcing any federal agency regulations or executive orders that would violate the state constitution.
Featured GOA News & Updates